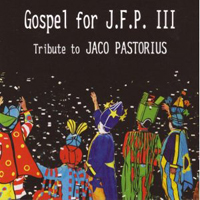 Jaco Pastorius would have turned 60 on December 1st. The album Gospel For J.F.P. III – Tribute To Jaco Pastorious celebrates the work of the legendary bassist, who died on September 21, 1987. The tribute includes performances by over 60 of the finest jazz and fusion musicians.
Gospel For J.F.P. III – Tribute To Jaco Pastorious is a modernized viewpoint consisting of bop-induced piano jazz; thrusting, bass-heavy funk; jazz fusion, spiced up with a taste of the Caribbean and South America; and much more.
The album features band mates and colleagues of the legendary electric bass virtuoso and innovator. Among this this list of luminaries are: Alex Acuña, Carles Benavent, Charles Blenzig, Delmar Brown, Hiram Bullock, Kenwood Dennard, Hugo Fattoruso, Michael Gerber, Gil Goldstein, Danny Gottlieb, Billy Hart, Toninho Horta, Bireli Lagrene, Armando Marçal, Marcus Miller, Bob Mintzer, Othello Molineaux, Jorge Pardo, Felix Pastorius (Jaco's son), John Patitucci, Mike Stern, and many more.