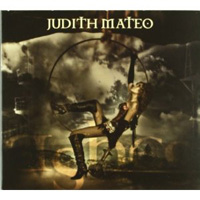 Judith Mateo
Ashes (Warner Music, 2011)
Ashes is the latest offering by Spanish fiddler Judith Mateo. Even though she was not born in the Celtic regions of Spain, Celtic music runs in her blood. On Ashes she mixes Celtic fiddling with fiery rock, including a version of Kansas' classic rock song 'Dust in the Wind.'
The best cut is Sept.97, an instrumental tribute to Danny Doyle. Judith Mateo celebrates her life changing trip to Ireland in 1997, where she met Danny Doyle. This captivating cut combines fretless jazz bass and keyboards with the fiddle melodies.
Another keeper is a track titled Bollywood, where she blends Bollywood dance music with electronic beats and her fiddle melodies.
Most of the album, however, falls under the category of Celtic rock. Mateo pays another tribute on 'De Fiestas', a piece by a well-known Spanish rock musician and flute player named Jose Carlos Molina, who was the leader of Ñu, a Spanish band inspired by Jethro Tull. Molina appears as a guest on flute.
Mateo is an accomplished fiddler, who many times gets drowned by the excessive hard rock electric guitars. On Ashes, she incorporates unnecessary rapping that doesn't really belong there.
Judith Mateo has a passion for Irish culture. She has performed throughout Europe and has released Tir Nan Og (Universal Music Spain, 2003) and Mientras el cielo no se caiga (Balinaboola SL, 2007).