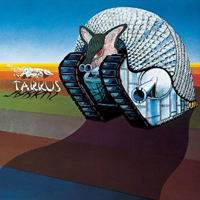 Emerson, Lake, and Palmer
Tarkus (Deluxe Edition) (Razor & Tie Recordings, 2012)
The triple set Tarkus (Deluxe Edition) is the second volume of Emerson, Lake, and Palmer released by Razor & Tie. Tarkus was the second album by progressive rock superband Emerson, Lake, and Palmer. The band didn't care much about radio hits and continued to push boundaries.
The triple album features the original album on disc, a new stereo mix and 5.1 surround sound engineered by Steven Wilson.
The first track is the mammoth 21-minute suite titled Tarkus, which is divided into several parts: Eruption, Stones Of Years, Iconoclast, Mass, Manticore, The Battlefield, and Aquatarkus. This suite is depicted in the album artwork by William Neal that features an iconic armadillo, half animal, half war machine with tank treads and armor. The idea was to capture the vibrancy of the band's sound. The original Tarkus epic took the entire side 1 of the LP. Meanwhile, the artwork showed the armadillo fighting several mythical beasts such as the manticore.
The Tarkus suite is an impressive piece of classical and jazz-infused progressive rock, full of virtuosic electric organ, piano and synthesizer work; Carl Palmer's impressive drumming, pushing time signatures; and Greg Lake's evocative vocals and fine bass work.
The next is a honky tonk piano ballad featuring Emerson on upright piano, Lake on vocals and Palmer on drums. It's hard to make sense of the lyrics so it's better to leave up to the imagination.
Bitches Crystal presents a prog rock version of a boogie woogie. Emerson and Palmer were fans of jazz masters like Dave Brubeck and took these influences into uncharted territories, blending piano with synthesizers and the band's powerhouse rhythm section.
The sounds of the pipe organ and synthesizers announce a shift towards deep classical influences. It's a beautiful hymn initially with Lake on vocals and Emerson on majestic organ. The piece later morphs into tasty jazzy Bach-style keyboards, drums and bass.
Infinite Space (Conclusion) is a powerful piano, drums and bass instrumental. Next comes another signature electric organ and drums-fueled piece, featuring Lake's passionate vocals.
The original albums ends with a fun rock and roll piece titled Are You Ready Eddy? Dedicated to Eddy Offord, the album's engineer. Eddie Offord is a mythical figure in progressive rock as he engineered tseveral of the most iconic albums by Emerson, Lake, and Palmer and Yes.
Disc 2 contains bonus material such as 'Oh, My Father,' recorded during the Tarkus era. It features Lake on vocals and rockish lead electric guitar.
There is also an odd track called 'Unknown Ballad' that feels more like folk rock than Tarkus-style progressive rock.
The album ends with an alternate version of Mass (part 4 of the Tarkus suite). It's an instrumental version led by Keith Emerson's synthesizers.
The CD booklet contains the mesmerizing original artwork as well as vintage photos and details about the original recording and Steven Wilson's participation as an engineer. It will answer some of the questions fans have been making about sound quality and vision.
Naturally, Tarkus is a classic album that belongs in any progressive rock collection.