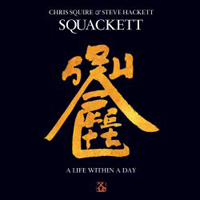 Squackett
A Life Within a Day (Esoteric Antenna EANTCD 1002, 2012)
A Life Within a Day, the eagerly anticipated album by two of progressive rock's best known instrumentalists, Chris Squire of Yes and former Genesis guitarist Steve Hackett is finally here. The street date is May 28th, 2012.
Progressive rock musicians are a strange breed. In some cases, excellent instrumentalists and composers get together to form outstanding superbands, like the late 70s UK. Other times, they put aside their formidable instrumental skills and deliver pop or radio friendly rock music (also known as AOR). Squackett has both.
The Squackett album has some pieces that will please progressive rock fans. 'The Summer Backwards' features great vocal harmonies, elegant acoustic guitar a la Genesis, symphonic synths and a fabulous guitar solo. Another keeper is 'Can't Stop The Rain' which has more of a Yes sound with soft ethereal vocals and delightful guitar parts. It segues into the last piece 'Perfect Love Song' which begins with an epic progressive rock feel.
The rest of the album features rock songs with the heavy slow tempo drums that Steve Hackett often uses in his pieces, as well as radio friendly rock and pop with nicely done vocal harmonies that sometimes recalls Crosby, Stills and Nash. Most pieces have outstanding guitar solos and occasional bass brilliance.
A Life Within a Day is an interesting first project by two major forces in classic progressive rock, who explore their pop and vocal sides as well their progressive rock heritage.