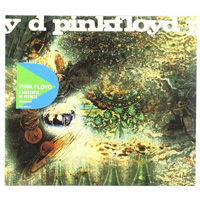 Pink Floyd
A Saucerful Of Secrets (EMI, 1968)
A Saucerful Of Secrets was the second studio recording by Pink Floyd. It was remastered this year and is now available with improved sound quality. A Saucerful Of Secrets was recorded at a difficult time for Pink Floyd. The band's main lyricist and guitarist, Syd Barrett, was having serious mental health problems and became increasingly unreliable.
If you look at the album credits, you'll see that guitarist David Gilmour appears along with Barrett. Gilmour was brought in as replacement for Barrett during the recording and brought with him his innovative guitar style.
At this stage of the band, most of the material was composed by bassist Roger Waters and keyboardist Rick Wright. Pink Floyd was still in a musical transition. Pieces such as the hypnotic Set The Controls For The Heart Of The Sun and the instrumental 'A Saucerful Of Secrets,' introduced the experimental music and space rock tendencies of the band. Wright's keyboards and Gilmour's guitars ventured into uncharted territory. However, some pop elements remained in songs like 'Corporal Clegg' and 'Jugband Blues' both of which had a very Beatles-like flavor.
The album includes a delightful dreamy piece by Wright titled' See-Saw,' where his memorable mellotron plays an essential role.
A Saucerful Of Secrets set the ground for Pink Floyd's space music explorations, introduced a key new member (David Gilmour) and made wide use of the mellotron, one of the most beloved musical instruments in the world of progressive rock.