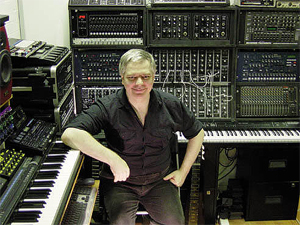 The Soundscapes Concert Series returns to the Nazareth Center for the Arts on Friday, March 23, with Mark Jenkins of the UK.
A leading figure in the UK's electronic music scene for over 20 years, Mark Jenkins has performed as a member of White Noise and with singer Arthur Brown and members of Can, Gong, Van Der Graaf Generator, and Tangerine Dream. He is the author of the acclaimed book and CD "Analog Synthesizers" and is the first musician in the world to release a CD created entirely on the Apple iPad.
Mark has created music for concert performances, advertising, TV and CD releases and has performed at the London Planetarium, London Royal Greenwich Observatory Planetarium, London South Bank, Carnegie Science Center Pittsburgh, National Theatre Brazil, and in France, Holland and China.
Doors open at 7:30 pm and the concert is at 8:00 pm. The concert is free. Donations are requested to support the musician and to enable the Nazareth Center for the Arts to pay operating expenses. The NCA is located at 30 Belvidere Street, Nazareth, Pennsylvania 18064 just off of Route 191 on the southwest corner of Belvidere Street and South Spruce Street. Check the NCA site for parking information.
The Soundscapes Concert Series is the concert companion to the Galactic Travels radio program on WDIY-FM and to Thought Radio on WMUH-FM and presents electronic music to the Lehigh Valley.
Future concerts:
Sunday, April 22: Wave World (Netherlands)
Friday, May 11: Broekhuis, Keller, and Schonwalder (Germany)
More at: http://soundscapes.us