The seminal act Djam Karet is one of the most veteran bands in the American progressive music scene. For years, Djam Karet has been crossing the boundaries between progressive rock, electronic music and other genres. We talked to guitarist Gayle Ellett about the band's background and upcoming projects.
How and when was Djam Karet formed?
GE: We formed back in 1984, in Claremont California. Chuck and I went to the same college, and Henry and Mike lived in town. Chuck was already playing in a band with Mike and Henry called Happy Cancer. And sometimes Chuck and Mike played in a little band I had as well. So we all knew each other (and Claremont is a small town).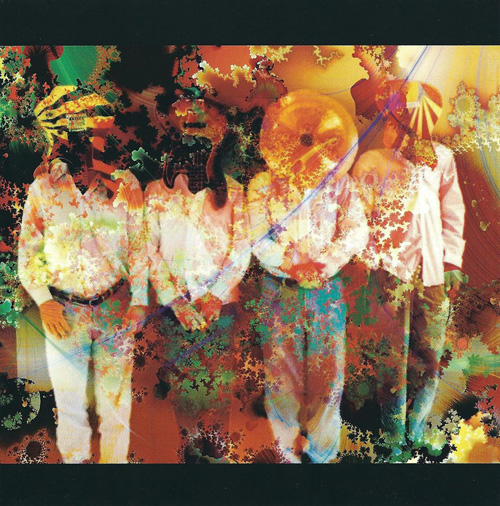 What does Djam Karet mean?
GE: It is an Indonesian word meaning "elastic time" and it refers to how your sense of time changes. We spent all of the first few years only playing entirely improvised music, filled with really long jams of an hour or more. But they always SEEMED like they were only maybe 20 minutes long! Being in the moment, like that, made it hard to judge the time. Chuck found that phrase while reading a book by Harlan Ellison.
What do you consider as the essential elements of your music?
GE: I personally feel that the essential element of our music is that the other guys in the band better do EXACTLY WHAT I SAY … or I'm gonna smack them upside the head with my guitar! And I have a REALLY heavy guitar too! Just kidding!! (and badly as well)
Actually, we are an instrumental group that focuses on playing the type of music we ourselves want to hear. The band is quite indulgent that way. We are really free to make music anyway we see fit, and to change it up from album to album.
Our music often has a strong sense of groove, and texture and rhythm. Its not all about soloing (even though we have a TON of solos in our music). It's more about trying to create great evolving compositions that move and grow, with the band as our vehicle, and the studio as our home. Basically, I aspire to someday be the peer of my idols. And Djam Karet is one way in which I try to achieve that goal.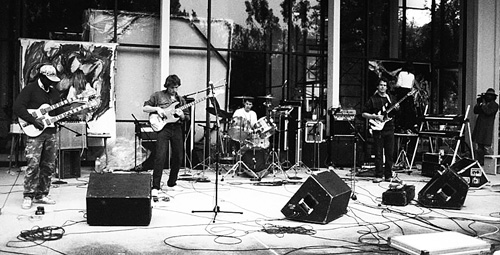 Who can you cite as your main musical influences?
GE: When I was 8 years old, and I first heard the Beatles Sgt. Pepper's album it completely floored me! I thought "WOW! Music can be as real or impactful as a movie or TV. Music can really take you on a visual journey." And the creators of such works are like Gods, creating new worlds of wonder. I thought, and still do, that there is nothing better you can do, then to create music!
And I am also really influenced by the music of my teenage-years, the 1970's. Groups like Pink Floyd, King Crimson, Yes, Genesis, ELP, Gentle Giant, and the Southern Rock bands like the Allman Brothers, Lynard Skynyrd, ZZ Top, and then later groups like Soft Machine, National Health, Gong, Hatfield, and the darker groups like Present, Magma, Art Zoyd, Weidorje, and Universe Zero.
The band has been around for many years. Tell us about your first recordings and your musical evolution.
GE: For many years … all of our rehearsals and gigs were totally improvised. No pre-determined anything, just tune up and play. And our first release "No Commercial Potential" was improvised in-studio to tape. We recorded about 9 jams, and put the 3 best ones on that release. Later, we bought some cool keyboards to use for textures and weird sounds, and as we began to incorporate them into our music, we slowly added more structure to accommodate them.
Then, slowly over time, our music became more structured. The albums "Still No Commercial Potential", and also "The Trip", are totally improvised as well. But many of our albums have quite a lot of organized structure to them. We often make each new album a bit different, to keep our interest high. So it all varies from record to record. Some are much more electronic, some are rather hard rock.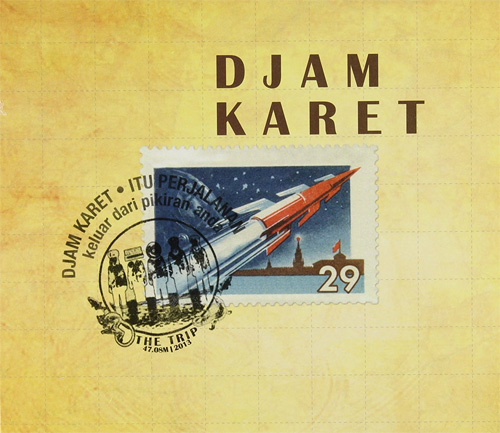 What musical instruments do you use?
GE: Our band is basically two guitars, and bass and drums. But we also use a TON of classic keyboards, and other exotic effects. In Djam Karet I mostly play guitars and keyboards, and some Greek bouzouki. I also record a lot of nature sounds from outside my house and various other locations around town, and then incorporate them into our music.
And what effects do you use?
GE: Generally, when I record my guitars I don't use any effects. I just plug it in, and use the tube amps, and the way I play it, to get my tones. I do occasionally like analog delays and SmallStone chorus pedals, and for jamming with friends, I've been loving my Strymon Deco pedal. In the recording studio, for mixing, I've been loving the SoundToys EchoBoy and Decapitator. They're great.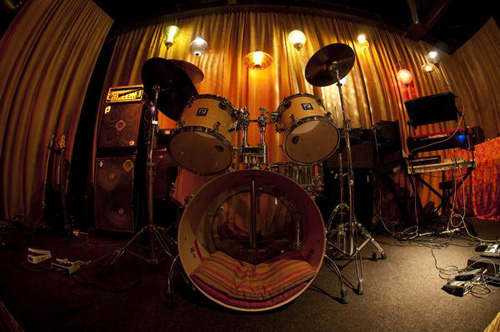 What's the current Djam Karet lineup?
GE: Everyone that was ever in the band, is still in the band! That includes the four founding members: Chuck Oken jr, Henry Osborne, Mike Henderson, and myself. And also Aaron Kenyon and Mike Murray.
All six of us play (to varying degrees) on the new album: Sonic Celluloid.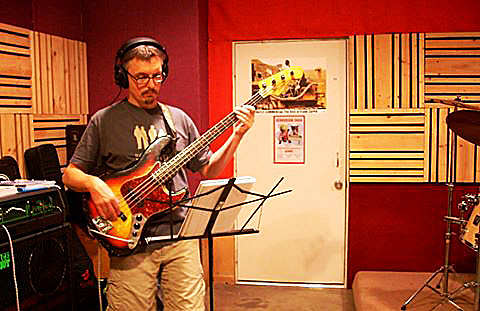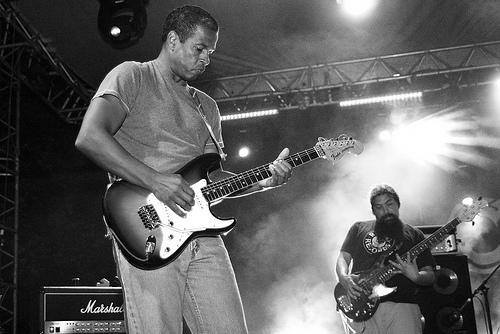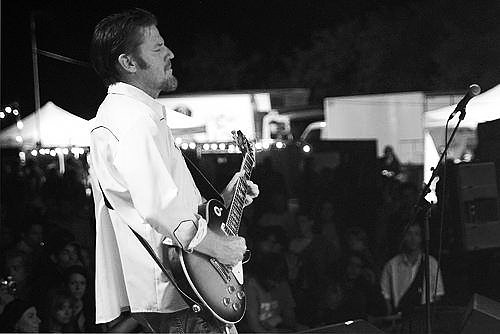 Tell us about the upcoming album Sonic Celluloid.
GE: Even though Sonic Celluloid is an instrumental album, it is all about how sound can be like cinema, how music can be like a movie. Many people have told us that listening to our music, is like seeing "mini-movies in your mind." And on Sonic Celluloid, we really focused in on this cinematic aspect of our sound. Not "soundtrack-type" music, but music as film. Hence the title.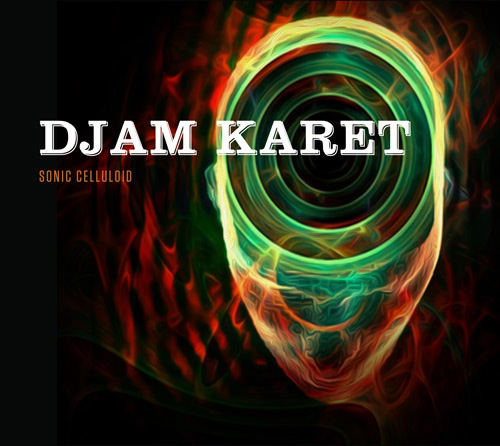 On this release, everyone contributed as much or as little as they wanted, with the huge bulk of the work being done mostly by me and Chuck. Chuck wrote the foundational synth chords and sequences that form the backbone of much of the music, by utilizing his giant collection of modular synths and sequencers. And I then wrote all of the melodies and played all of the guitar solos, and Minimoog & Mellotron & Rhodes and Hammond, and mixed and produced it.
With Sonic Celluloid, we've created a sound that has more melodic sections, more classic keyboards, and more acoustic instruments, then any of our previous albums. And its also the best produced and best sounding record we've done so far. It's also very "accessible", and it's gonna be a fan-favorite, for sure. So we are all REALLY happy with it!
The band runs a label called Firepool Records that releases recordings by Djam Karet and other artists. How do you select the artists and which are the most recent recordings?
GE: Basically, it's Chuck and I picking projects we like, that are usually by friends we know. We did the three Herd Of Instinct albums, the Spoke Of Shadows CD, an improvised album by my side-band Hillmen, and an album by Chuck Oken jr, and Mike Henderson.
Do you have any upcoming albums on Firepool?
GE: I think we might be releasing the newest Herd Of Instinct album, due out in 2017. I play on it some, and the great Mark Cook oversees all of the compositions and details. He's awesome! Other than that, I am not sure, we'll see what happens!
How's the current progressive rock scene in your area?
GE: I have no idea, really. We live a very isolated life, and we don't interact with many other Rock bands here in LA. Actually, we end up doing more stuff with other Electronic musicians. And Los Angeles is a horrid place for live music. Yes, there are a million bars, but most of them never ever have live music. It's a pay-to-play city. It's really weird. Yes, all famous bands come through our big metropolis, and you can go see them at a huge venue. But the city itself is not very pro-live music (in my view, at least).
If you could gather any musicians or musical groups to collaborate with, whom would that be?
GE: I don't really know. I am a huge fan of Brian Eno. I love Bill Laswell's work. And Daniel Lanois. Who knows?
Do you have any upcoming projects to share with us?
GE: There is another Djam Karet album currently in the works. It is partially done, but still has a long, long way to go towards completion, and probably won't be ready until Late 2018. It will be even more acoustic, with more ethnic instruments, then any of our previous albums.
And also some of the guys in the band have their own musical side-projects coming up, to be announced soon.
So stay tuned!!! It's gonna be fun year!
Many thanks for giving me the opportunity to talk about our music!! We greatly appreciate it!
Discography:
No Commercial Potential…And Still Getting the Ladies (1985)
The Ritual Continues (1987)
Reflections from the Firepool (Cuneiform, 1989)
Burning the Hard City (1991)
Suspension & Displacement (Cuneiform, 1991)
Collaborator (1994)
The Devouring (Cuneiform, 1997)
Still No Commercial Potential (1998)
Live at Orion (Cuneiform, 1999)
Ascension (2001)
New Dark Age (Cuneiform,, 2001)
A Night for Baku (Cuneiform, 2003)
Live At NEARfest 2001 (2004)
Recollection Harvest (Cuneiform, 2005)
The Heavy Soul Sessions (2010)
The Trip (2013)
Regenerator 3017 (2014)
Swamp of Dreams (2015)
Sonic Celluloid (2017)
official website: www.DjamKaret.com