British guitarist and electronic music trailblazer Steve Hillage has been at the forefront of various music trends in the past decades. He was one of the pioneers of psychedelic progressive rock and later became involved in various forms of cutting edge electronic music.
Currently, Steve Hillage continues to surprise with his new projects. The most recent is a collaboration with Japanese band Rovo. Hillage's System 7 and Rovo have released the superb Phoenix Rising (G-Wave Records, 2013). For those interested in taking at Steve Hillage's earlier material, Gonzo Multimedia recently released two live albums: Live at the Gong Family Unconvention 2006 at the Melkweg Amsterdam, and Steve Hillage Live In England 1979.
Steve Hillage discusses the Rovo collaboration and his other projects with Progressive Rock Central's Angel Romero.

How did you connect with Japanese band Rovo?
We first saw Rovo at a Japanese festival in 2002 and subsequently became friends with them, partly through one of the team that do our System 7 animation videos who was also working with Rovo as a VJ. Yuji Katsui, the Rovo main man, who plays electric violin has guested on some our records in including Gong's 2032 album and our System 7 album Up. Back in 2010 we were discussing with Rovo what we could do in exchange for Yuji's recording work, thinking they would like a remix from us or something like that. But they said "let's do a collaborative tour together – that can be the exchange". And we said "OK". The eventual tour in Japan in 2011 went really well, and we found the way we managed to shift between dance rhythms and completely live stuff to be really innovative. So after the tour we decided to make an album together.
Tell us about the collaborative process as far as composing and recording?
The album was a complete collaboration and primarily based on live takes of all 8 musicians playing together in the studio. For the actual album Miquette and I prepared a few compositions and Rovo prepared some compositions and we got together for a few days in a very good recording studio in Tokyo in September last year and recorded the live tracks. Then Rovo did some overdubs to their parts and Miquette and I took the full recordings back to London and did overdubs to our parts and also some editing. Then I went back to Tokyo with the material in March and worked on the mixes with Tatsuki Masuko and Yuji Katsui of Rovo.
In the album Phoenix Rising, your band System 7 and Rovo managed to include some of the most attractive progressive music styles: creative electronic dance music, fusion, progressive rock and space music. Will you be pursuing more collaboration with Rovo?
We didn't really think about musical genres while we were making the album. System 7 and Rovo each have their own distinct styles and their own distinct histories. We are not a typical dance music act and Rovo are not a typical progressive rock band. I think essentially this is a pure creative collaboration that combines our styles is an innovative and uplifting way. The music is not all fixed, and there is a strong element of improvisation.The idea for this originally came from Rovo's suggestion to do a combined live tour together, and so the live element is important.
The first track on the album 'Hinotori' is special because it was Rovo's idea to do a live rock re-interpretation of our original System 7 tune titled 'Hinotori' from a previous album. This is the reverse of the normal dance remix process where club mixes are made of live rock tracks. For Rovo's track I coined the term "post electronic". Maybe that is a new genre! The next step for us is more Phoenix Rising live dates with Rovo, first in Japan and Taiwan in November and the in UK/Europe in March 2014. We'll see where this takes us and if this will lead to some more recording.
In addition to the project with Rovo, you are currently involved in other projects as a soloist and with System 7. Tell us about these projects.
I recently played a collaboration concert with the legendary Japanese synthesizer pioneer Tomita in Tokyo and I hope to some more work with him soon. I've played on some recent records by Prog Collective, and also some tracks with Nik Turner. With System 7 we've just played some great sold-out shows on the 25th Anniversary tour of our friends and collaborators The Orb. Aside from our ongoing work on our new System 7 and Mirror System material, we've recently made remixes for Banco de Gaia, renowned ambient artist Makyo, and Japanese rock star Sugizo.
You are essentially a guitarist and System 7 is an electronic music project. What instruments or devices do you use to produce this type of sound?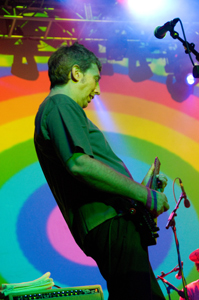 In the studio a lot of what we do uses plug-in software synths by Native Instruments, Camel Audio and others. The main software we use is Protools and Logic – also Ableton and Reason. I also sometimes use a Kurzweil 2500 keyboard synth.
How about your longtime companion, Miquette Giraudy, what electronic equipment does she use?
As well as various software synths with Logic and Reason, Miquette uses a Nordlead hardware synth, and of course the EMS Synthi A. Recently she has been doing a lot of work with the iPad, using Alchemy and Animoog among other synth apps.
System 7 is not the only electronic music project you are involved with. What are the differences between System 7, 777, and Mirror System?
System 7 and 777 are essentially the same project – we had to use a different name from System 7 in the United States for a few years hence 777. Mirror System is a sister project concentrating on the chillout and downtempo aspects of our sound.
You started in the psychedelic and Canterbury progressive rock scene in the 1970s. How did you connect with the collective of international musicians known as Gong? Where did the band members live at the time?
Gong were totally part of the Canterbury scene, as Daevid Allen was an original member of the Soft Machine. He is Australian and he had to leave the Soft Machine because his visa to stay and work in the UK expired, and he decided to stay in France, and eventually formed Gong. Gong lived in a community house in the country south of Paris in what you might describe as a classic psychedelic situation. I met Daevid a couple of times through mutual friends and we got on well. On a long tour of France I was doing playing with Kevin Ayers band (he was another former Soft Machine member), I hooked up with the Gong band and we jammed and it was amazing – the rest is history as one might say. It was at this moment that I met my partner Miquette Giraudy.
Your ambient album Rainbow Dome Musick is a classic. What led you to electronic music?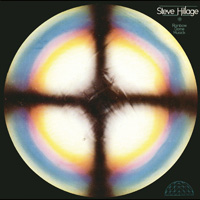 When I was young I was a fan of early electronic sounds like the Forbidden Planet soundtrack. Actually right from my first group when I was at school I've kinda specialised on the way electric guitar links with keyboards and as as synthesizers developed in the 70s so I progressed to blending my electric guitar with synthesizers. I was a fan of early electronic records like Tonto's Expanding Headband – in fact I ended up having Malcolm Cecil produce my album Motivation Radio in 1977.
I followed Kraftwerk's development right from the time when they were an acoustic band, and I was pretty keen on some aspects of Giorgio Moroder's electronic disco sound. So my involvement with electronic music started right from the early 70's. Rainbow Dome Musick was a record based on the sound Miquette and I create when working without drums, and what led us to eventually making System 7 was a desire to blend this sound with pure electronic beats.
As a pioneer in various musical genres, your guitars, techniques and effects have evolved with you. Tell us about the early effect devices and guitars you used at the beginning and how they advanced into the equipment you use now.
Things started getting really serious for me at the age of 15 when I got a Fender Stratocaster. It was this guitar that was very much associated with me in the 70s, although I also used a Gibson Les Paul and a Gibson SG. I've used many different effect devices over the years, but echo delay is the one most associated woth my sound. My first one was a Watkins Copycat. I later progressed to a Maestro Echoplex and also did some things with stereo delay using a Revox tape recorder. On my 1976 album L Todd Rundgren used an early version of the Eventide Harmoniser and the chorus effect from this also became part of my sound.
The big change came in the mid 1980s when I switched to the Steinberger GL2T which I play to this day, and then the switch away from guitar amps to digital amp simulation units. In the last decade for recording I use the Sound Toys Echo Boy Protools Plug-in for echo delay. It's absolutely brilliant and also simulates many classic analog delay like the Echoplex. Interestingly, Sound Toys plugins are made by former engineers from Eventide, who developed the Harmoniser. My current main guitar sound device is the Line 6 Pod XT Pro, which is a multi-module amp simulator and effect unit, plus a pedal board.
Do you still use some vintage sound effect material?
Miquette uses an antique EMS Synthi A (aka VCS3) which is still the best synth for ultra-spacey psychedelic sounds. She got hers in 1974. I still have some old effects pedals from the 70s but I rarely use them. I mostly use modern equipment.

How about the guitars? Do you keep your old guitars?
Not really – I'm not that way inclined. I'm completely in love with Steinberger guitars. They are small, funky and fit perfectly with my style of music. I have two. The older Steinberger is 25 years old so I guess that's an "old" guitar. But I didn't retain the guitars I used in the 70s.
If you could gather any musicians or musical groups to collaborate with whom would that be?
That's rather hard to say. A lot of our collaborations are based on meetings that happen somewhat by chance. But I'd love to play a track with ZZ Top!
What's next as far as new recordings or other projects?
The next recording project for us is a new System 7 album and also a new album for our chillout project Mirror System.
Selected Discography:
Space Shanty, with Khan (1972)
Flying Teapot, with Gong (1973)
Angels Egg, with Gong (1973)
You, with Gong (1974)
Fish Rising (1975)
L (1976)
Motivation Radio (1977)
Green (1978)
Live Herald (1979)
Rainbow Dome Musick (1979)
Open (1979)
Aura (1980)
For To Next (1983)
And Not Or (1983)
System 7, with System 7 (1991)
BBC Radio 1 Live (1992)
777, with System 7 (1993)
Point 3 – Fire Album, with System 7 (1994)
Point 3 – Water Album, with System 7 (1994)
System 7.3: Fire + Water (1995) U.S. version of the two Point 3 albums
Power of Seven, with System 7 (1996)
Golden Section, with System 7 (1997)
Seventh Wave, with System 7 (2001)
Light in the Sky (2003)
Live at Deeply Vale Festival 1978 (2004)
Dreamtime Submersible, with Evan Marc (Somnia Records, 2008)
Encantado, with System 7 (2004)
Phoenix, with System 7 (2008)
Mirror System, with Mirror System (2006)
2032, with Gong (2009)
Reflector – DJ Mix, with Mirror System (2010)
Up, with System 7 (2011)
Live at the Gong Family Unconvention 2006 (G-Wave/Gonzo Multimedia, 2012)
The Fusion Syndicate (Purple Pyramid Records, 2012)
Steve Hillage Live In England 1979 (Gonzo MultiMedia UK, 2013)
The Prog Collective Epilogue (Purple Pyramid CLP0667, 2013)
Phoenix Rising, with System 7 and Rovo (G-Wave Records, 2013)