Virtuoso bassist and composer Antoine Fafard has recently released Occultus Tramitis, an impressive fusion album that features some of the finest musicians in the current fusion and jazz-rock scene.
Antoine Fafard was born in Montreal (Canada) and now lives in the UK. In addition to his solo career, Fafard composes music for television and performs as a session bass player.
During the late 1990s, Antoine Fafard led a renowned Canadian fusion band called Spaced Out. The band released five studio albums: Spaced Out (2000), Eponymus II (2001), Slow Gin (2003), Unstable Matter (2006), Evolution (2008); one live album, Live at the Crescendo Festival (2007); and two DVDs: Live in 2000 (2005) and Live at the Crescendo Festival (2007).
Antoine Fafard's first solo album, Solus Operandi, was released in August 2011.
Antoine Fafard reveals details about this latest project, Occultus Tramitis (2013), to Progressive Rock Central.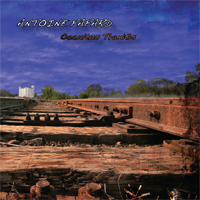 On Occultus Tramitis you feature an impressive lineup of renowned international fusion musicians. How did you connect with all the guests?
I simply connected with them via emails… it was pretty straightforward. I sometimes had to be patient as the musician I contacted was on tour or busy with other projects. In the case of Scott Henderson and Simon Phillips, the initial contact had been made a while back, but it took some time before the sessions actually happened. It was of course an honor to be able to have all those great musicians playing my music.

Was there long distance recording?
Yes… I can confirm that all the collaborators on this album where based in a different location to where I was based.
Electric violinist Jerry Goodman seems to be in great shape. Will you be collaborating with him again?
Jerry is a fantastic player and I definitely want to collaborate with him again in the future. He simply elevated my music to another level. It was a real privilege to have him on my album.
If you could gather any musicians or musical groups to collaborate with whom would that be?
I have a long list of musicians I want to collaborate with in the future, and Vinnie Colaiuta and Allan Holdsworth are on top of this list.
Your two solo albums have titles in Latin. Why Latin?
Because I think it's a language has a nice tone to it… Latin is the root for most of the European languages, and I associate it to something universal and timeless.

Tell us about your musical background.
I started to play piano at the age of 9 and switched to the classical guitar at 11. I then started the electric bass at 15 and soon after studied music in College/University. Growing up my older brother who is a drummer introduced me to a wide range of music. I've always transcribed music and been attracted to composition.

What bass types and models do you use? How many do you have?
I have a 6 string fretted and a 6 string fretless custom made Sei Bass. These instruments were made by Martin Peterson in London.

Who are your favorite bass players?
Jaco Pastorius and Victor Wooten are probably on top of the list for me… but there are also many more great bass players I admire!

How's the Canadian fusion music scene?
I'm not sure how active it is… it never seemed very alive to me. I can say the same thing for London.

Where are you based now?
I've been based in London for now more than 10 years.

What music are you currently listening to?
I'm generally very open minded… but at the moment, I listen to a lot of Allan Holdsworth.

What new projects are you working on?
I'm currently composing some new music in collaboration with Canadian guitarist Jerry De Villiers Jr. I'm also rehearsing with my trio and will soon perform a few gigs in the London area.
Buy Occultus Tramitis in North America
Buy Occultus Tramitis in Europe