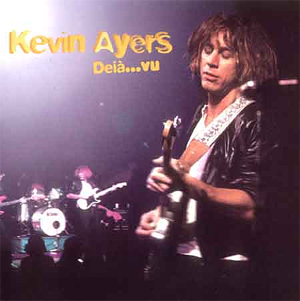 The British media announced today that British guitarist, vocalist and songwriter Kevin Ayers, a leading figure in the UK's psychedelic rock scene, died February 18th, 2013 in Montolieu, France. He was 68 years old.
Kevin Ayers was part of the legendary Canterbury music movement and was a founding member of the groundbreaking and influential band Soft Machine.
Ayers was born in Herne Bay, Kent, in 1944. During his early university years he took part in the thriving music scene in the Canterbury area of England. He joined a band called Wilde Flowers that included Robert Wyatt and Hugh Hopper, as well as future members of progressive rock band Caravan.
The Wilde Flowers grew into Soft Machine with the addition of keyboardist Mike Ratledge and Australian guitarist Daevid Allen. Soft Machine was initially a psychedelic rock band that evolved into one of the most notable avant-garde and jazz-rock bands in the world.
Ayers participated in the album The Soft Machine. He left after that recording and started a long solo career. Some of his essential recordings include Whatevershebringswesing, Bananamour, The Confessions of Dr. Dream and Other Stories. His last album was Unfairground, released in 2007.
In addition to his solo albums, Ayers collaborated with Brian Eno, Syd Barrett, John Cale, Elton John, Robert Wyatt, Andy Summers, Mike Oldfield, Nico and Ollie Halsall.
Kevin Ayers lived for many years in Deyá, in the Spanish island of Majorca, and also spent time in Ibiza, Madrid and northern France. He returned to the United Kingdom in the mid-1990s and later moved to the south of France.
Kevin Ayers at Taverne De L'Olympia, May 1970 – Part 1


TV special for TVE (Spain)
Kevin Ayers with Mike Oldfield