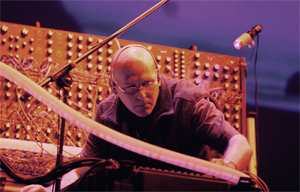 This week we present a live performance of renowned American synthesist Robert Rich at Earth Frequency festival in Australia. "Alhambra" was captured on February 19th, 2012
Rich is back in the United States and announced a possible USA concert trip in late Spring. He accepted an invitation to play at "Electric Forest" in northern Michigan, around June 30-31. Other possibilities include an unconfirmed concert in Nevada at an eclipse around May 21. Other smaller gigs in between might be added. "… so please contact me directly if you want to make something happen," said Rich.
Robert Rich is one of the leading artists in the ambient and global electronica music scene. He has a new album titled Medicine Box.
A California native, Rich began experimenting with electronics at a young age. By the early 1980s he was recording and performing his own sustained sound environments and improvised music.