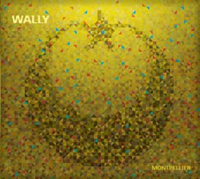 One of the legendary 1970s prog bands from the UK, Wally, has reunited and recorded a new CD titled 'Montpellier'. The album contains reworked demos from the Wally's earlier incarnation, along with new material written by founding members Roy Webber and Paul Middleton. The CD came out on February 10, 2012 in the UK on Gonzo MultiMedia.
Wally, led by singer-songwriter Roy Webber, was formed in Harrogate, Yorkshire in England in the early 1970s. In 1973, after playing the northern UK pub rock circuit, the group entered a new act competition organized by English music paper Melody Maker. The band made it to the finals held at London's Roundhouse Theatre, but did not win. However, they caught the eye of one of the judges, "Whispering" Bob Harris, legendary DJ of The Old Grey Whistle Test.
The runners-up prize was the opportunity to record a session for Harris's BBC radio show The Monday Program. Taking Wally under his wing, Harris secured a recording contract with Atlantic Records. "I really liked them," recalls Bob Harris. "I liked the swirling sound they made…acoustic guitar, electric guitar, fiddle, Fender Rhodes piano and pedal steel guitar. I liked their harmonies, the way their voices matched. I liked their influences…David Crosby, Jackson Browne and Neil Young. But most of all I liked Roy Webber's songs."
The group's eponymous debut album, recorded at Morgan Recording Studios in London, home of Yes and Black Sabbath, was released in 1974. It was co-produced by Bob Harris and renowned Yes keyboardist Rick Wakeman, who had seen Wally perform at the Roundhouse. "I will never forget the first time I heard Wally," Rick Wakeman relates. "I was completely bowled over by both the music and enthusiasm of the guys in the band for what they were doing. Whilst singing their praises to all the music industry I came across over the next few weeks, which included my management at the time, and Phil Carson, who was the head of Atlantic Records, was discovering that my great friend Bob Harris was also a massive fan and this culminated in the pair of us having the privilege of producing their first album together."
After Wally's debut release, the band embarked on a series of tours throughout the UK, Japan and the United States. They opened for Yes at a concert in London at the Alexandra Palace and also made an appearance on The Old Grey Whistle Test. "The band recorded sessions for my 'Sounds of the '70s' show on Radio 1 and played on Whistle Test," says Bob Harris. "They slept on the floor of my London flat, we did big tours together, bought one-legged pedal steel guitars and broke the bar-bill record at Morgan as half of Harrogate arrived to put a drink on our tab, or a tab on our drink…we didn't care. We were having far too much of a good time."
"The great thing about Wally for me was the fact that they were as tremendous on stage as they were in the studio," adds Rick Wakeman, "so I had no qualms whatsoever when inviting them onto the bill at my 'Journey To The Centre of the Earth' concert at Crystal Palace in the summer of 1974, and as expected, they were tremendous." Wally released a second album titled 'Valley Gardens', but by that time continual touring had taken its toll and the band eventually parted after Atlantic ended their contract. Wally's members would go their separate ways, only to reunite after a 30 year hiatus!
In 2009, the surviving members of Wally's original line-up (Roy Webber, Paul Middleton, Pete Sage, Roger Narraway and Nick Glennie-Smith, augmented by Frank Mizen on pedal steel and Will Jackson on guitar) reunited and performed to a sellout crowd in their hometown of Harrogate. A DVD of the concert titled 'The Urban Man' was released later that year.
'Montpellier is the band's first studio release in decades'. "I've always believed that if music is placed above individuals as regards to importance, then it will live on forever," says Rick Wakeman about Wally's reunion.
"It's a relief to report it still has all the qualities that made this instrumental band special all those years ago," says Graham Chalmers of the Harrogate Advertiser about Wally's new CD. "Emotional but not sentimental, epic but grounded, warmly melodic but with the emphasis on harmonies and the overall feel than the central riff."