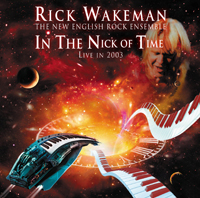 Legendary progressive rock keyboardist Rick Wakeman will be releasing his latest album In The Nick Of Time on March 19th, 2012.
The archive live album was recorded in 2003 during an extensive British tour with the New English Rock Ensemble. In The Nick Of Time comprises 7 tracks including: Catherine Parr/Beware Your Enemies, No Earthly Connection, White Rock and Wurm which is a track originally found on The Yes Album as part of Starship Trooper.
Rick Wakeman is best known as the keyboard wizard for the influential progressive rock band Yes. He's had a brilliant solo career with now classic prog rock albums. In 1972, Rick Wakeman released his first solo album, one of the most iconic prog albums of all time, The Six Wives of Henry VIII. The album was a great success, to date selling over 15,000,000 copies worldwide. Other concept albums included "Journey To The Center Of The Earth" and "The Myths and Legends of King Arthur."
Wakeman also composes film scores. Some of his best known works include Ken Russell's Liszttomania, Creepshow 2, The Burning, Kathleen Turner's Crimes of Passion, the winter Olympics film White Rock, and many others.