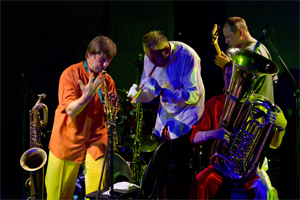 Iconic Russian band Auktyon will be releasing its new album Top on February 14th with three shows in New York. Auktyon draws its inspiration from such remote sources as ska, reggae, avant-garde jazz, ethnic music of North Africa and Middle East, beat- and pop-music of the 1960s.
The band's keen sense for improvisation led them to Top (Geometriya). The album draws together the eerie folklore ("Shiski," "Polden/Noon"), edgy urbanity ("Mimo," "Yula/Top"), and exuberant word play ("Homba).
The band's unflagging energy will be in full force February 11 2012 for a U.S. release party at New York's Le Poisson Rouge and at Joe's Pub on February 18. The band will be joined by long-time American collaborators, keyboardist John Medeski and alt-guitarist Marc Ribot, for a special freewheeling show on February 16. Medeski and Ribot first leaped into Auktyon's whirling songs several years ago, recording tracks for 2007's Girls Sing, and playing shows together from Ukraine to downtown New York.
The line-up includes Leonid Fyodorov on vocals, guitar, percussion; Oleg Garkusha on dance, declamation, vocals; Viktor Bondarik on bass; Dmitry Ozersky on keyboards, percussion, trumpet; Nikolay Rubanov on saxophones, bass-clarinet, jaleika; Boris Shaveinikov on drums, percussion; Pavel Litvinov on percussion; Mikhail Kolovsky on tuba, trumpet; and Mikhail Rappoport – sound engineer.
"We have never had the goal to do something special, or to get something particular across to people," muses Auktyon dancer/poet Oleg Garkusha. "We do what we like, and we never do what we don't want to do. We just play."
Full Tour Schedule
02/11/2012, Sat
New York, NY
Le Poisson Rouge
158 Bleecker Street
Tickets: $35 adv./$45 day of show, Doors Open: 7:00 pm, Show: 8:00 pm
Ages 18+ Phone: 212.505.FISH.
02/16/2012, Thu
New York, NY
Le Poisson Rouge
158 Bleecker Street
Doors Open: 10:00 pm, Show: 10:30 pm
Featuring John Medeski & Marc Ribot. Ages 18+ Ph: 212.505.FISH
02/18/2012, Sat
New York, NY
Joe's Pub
425 Lafayette Street
Ph: 212.967.7555
February 6th, 2012 update: Due to a medical emergency, Auktyon has cancelled their upcoming New York City gigs