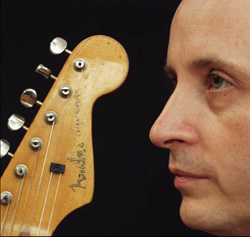 Guitarist Bruce Arnold provides a masterful demonstration of jazz rock fusion on his Music Man double neck and Asher slide guitar along with Kirk Driscoll on drums and Jerry DeVore on electric bass. The performance was part of the New York University (NYU) Summer Guitar Intensive.
Bruce Arnold was born in 1955 in Sioux Falls, South Dakota, USA. He is an author, composer, educator and guitarist residing in New York City. He explores the applications of 20th century classical theory in contemporary forms, such as Rock and Jazz, creating a unique compositional and improvisational sound. As a guest artist Arnold has toured Australia, Canada, the Caribbean, Europe, Japan, Mexico, Russia and the United States.
His performance and recording activities include work with a wide array of styles. He has played with such diverse musicians as Stuart Hamm, Peter Erskine, Joe Pass, Joe Lovano, Lennie Pickett, Randy Brecker, Stanley Clarke, the Boston Symphony Orchestra and the Absolute Ensemble under the baton of Kristjan Järvi.
Bruce Arnold's recording credits include over twenty five CDs and DVDs (on Muse-eek Records, MelBay Recordings, Truefire and other labels), ranging from the standard jazz repertoire to free improvisation to the reinterpretations of classical music with the ensemble Spooky Actions. His compositions are published by Muse Eek Publishing, and MelBay Productions.
Bruce Arnold plays "Runway." from Michal Shapiro on Vimeo.
Arnold's theoretical works have explored the use of Pitch Class Set Theory within a improvisational setting. He is also written more than 60 music instruction books covering Guitar Pedagogy, Ear Training and Time Studies. He is the director of guitar studies at New York University and Princeton University as well as the creator of the New York University Summer Guitar Intensive. He has taught at New England Conservatory of Music, Dartmouth College, Berklee College of Music, New School University, and City College of New York.
He is a totally dedicated guitarist who likes to practice for at least 3 hours a day. He also likes to work with the computer program SuperCollider to achieve his various effects.
His latest CD is Heavy Mental (Muse-eek Records, 2010)