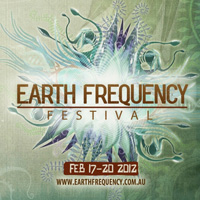 Australian music festival Earth Frequency returns in 2012 with a wide spectrum of music styles, including reggae, dubstep, techno, progressive, world music, psytrance, folk, funk and down-tempo/chill. All genres will sit alongside each other harmoniously in a 4 day mix of music for all tastes.
The diverse line-up of electronic music artists includes Robert Rich, Tipper, Talpa, ill.Gates, Audio Injection, Electrypnose, Janover, Opiuo, Spoonhead, Protonica, Spoonbill, Tetrameth, Kalya Scintilla, Circuit Bent, Suncontrolspecies, Sun:Monx, Sensient, Dysphemic & Miss Eliza Feat MC Heinz, OneTastyMorsel, Sun In Aquarius, Meat Axe, Jigsaw, Mote, Lubdub, Merkaba, Blunt Instrument, bumble, Closer Apart, Goosebumpz, Interval, ShifteQ, Blatwax (Live), Xenoscape, Dusty Fungus, Instrumental Asylum.
The live band line-up includes well established and upcoming acts from the South East Queensland and New South Wales regions: Dubmarine, Kingfisha, Kooii, Wild Marmalade feat Si Fixion, Darky Roots, The Upsteppers, Temple Step Project, Fyah Walk, The Mank, Youngtree, Ali Baba, Mystic Beats, One Dragon Two Dragon, Euphonix, CC the Cat, Lore Crew, Imandan, Lady Abundance Project, Beatrice, Jekks And The Priests of Heka, Pagan Love Cult and Channelfree.
More at: http://www.earthfrequency.com.au