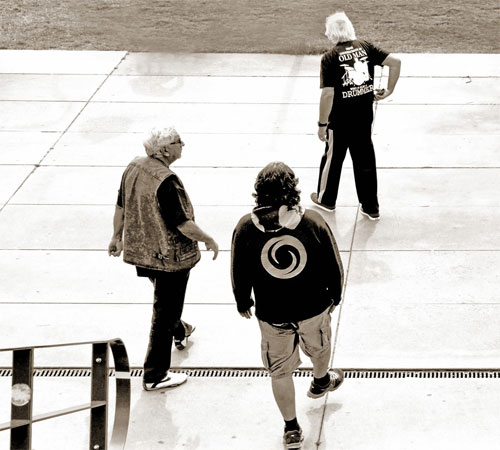 Azymuth, one of the most successful jazz-rock fusion bands from South Ameruica, will be touring in October and November 2016. The group will be presenting its new album titled Fênix.
With Fênix, its first album in five years, Azymuth recreated the energy of the enthralling 1970s sessions that made the band so popular.
Since the passing of keyboard master Jose Roberto Bertrami in 2012, remaining members Ivan Conti (right) and Alex Malheiros (left) have kept the spirit of Azymuth alive. Fênix initiates a new era as the Azymuth trio is complete once again, featuring guest keyboardist Kiko Continentino. A gifted pianist, composer and arranger, Kiko has worked with Milton Nascimento, Gilberto Gil and Djavan. The album also features Brazilian percussion legend Robertinho Silva.
Fênix European Tour Dates 2016
Oct 28 – Sigurdsgarde, Copenhagen
Oct 29 – Nefertiti, Gothenburg
Nov 02 – Bix, Stuttgart
Nov 03 – Domicil, Dortmund
Nov 04 – Badehaus, Berlin
Nov 05 – Kalif Storch, Erfurt tbc
Nov 06 – Stadtgarten, Cologne
Nov 09 – Jazzpodium, Dordrecht tbc
Nov 10 – Bird, Rotterdam
Nov 11 – North Sea Jazz, Amsterdam
Nov 12 – Le Sucre, Lyon tbc
Nov 14 – Teatro del Gatto, Ascona
Nov 15 – Bravo Caffè, Bologna
Nov 18 – Hideaway, London
Nov 19 – Hideaway, London
Nov 21 – Bayerischer Hof, Munich tbc