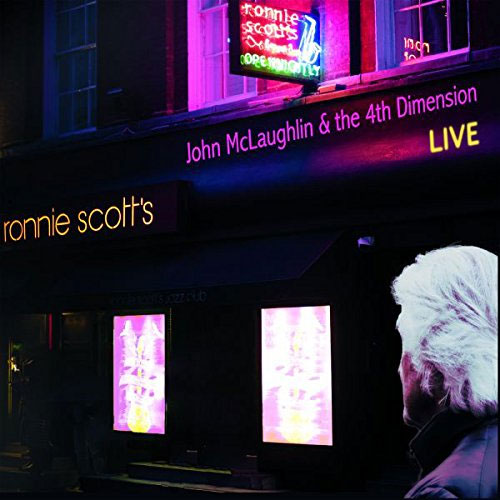 John McLaughlin and the 4th Dimension – Live at Ronnie Scott's (Abstract Logix, 2017)
The great jazz-rock guitarist John McLaughlin treats the listener to a set of live pieces recorded with his most recent band, the 4th Dimension. Live at Ronnie Scott's presents a collection of musical pieces that span McLaughlin's career. The album includes two superb (and memorable) compositions from the Mahavishnu Orchestra era: "Vital Transformation" (from Inner Mounting Flame) and "Miles Beyond" (from Birds of Fire).
Live at Ronnie Scott's includes a recently composed, dazzling electric flamenco piece titled "El Hombre Que Sabía." It's a tribute to his colleague and friend Paco de Lucia, who passed away in 2014.
John McLaughlin's diversity is expressed through his fusion of jazz, rock and global music elements from India and other parts of the world. Live at Ronnie Scott's includes a fabulous blues track titled "Gaza City" that has a Middle Eastern flavor.
Throughout Live at Ronnie Scott's, McLaughlin performs his spectacular guitar solos and improvisations. Meanwhile, the 4th Dimension is a remarkable group of musicians who are some of the finest instrumentalists in the genre. It's a multinational ensemble featuring British synthesizer wizard and drummer Gary Husband; masterful Indian drummer Ranjit Barot; and Cameroonian bass virtuoso Etienne M'Bappé.
Ronnie Scott's holds a special significance in McLaughlin's career. It's a London jazz club where McLaughlin performed as a member of the club's house band in the 1960s. It's a brilliant homecoming. He has returned as one the greatest jazz guitarists of all time and a highly influential musician who has taken jazz and the electric guitar to new dimensions.