Italian multi-instrumentalist Marco Ragni recently released a superb new album titled "Land of Blue Echoes." Ragni is deeply inspired by psychedelic and progressive rock. He talks to Progressive Rock Central about his music and career.
Angel Romero – What do you consider as the essential elements of your music?
Marco Ragni – The main element of my music is emotion. I always try to write and play what is in my heart… Then I love so much to create a landscape as a painter while describes your imagination in a painting. I'm an impressionist! I love to melting acoustic and electric elements. My music is passionate as me.
Who can you cite as your main musical influences?
My main musical influences are: Pink Floyd, Genesis, Led Zeppelin, Jimi Hendrix, Banco del Mutuo Soccorso, PFM, Jefferson Airplane, The Doors, Steven Wilson, Motorpsycho, David Crosby, The Beatles, Gentle Giant, Ozric Tentacles and all the progressive and psychedelic scene of sixties and seventies.. I listen to this music since I was a child.
Tell us about your first recordings and your musical evolution.
My first recordings was funny and totally experimental!! I used a four analogical tracks with cassette… I've composed a lot of psychedelic songs. My evolution was both from the point of view of the recordings and the composition. I studied a lot, especially, how to compose a song, how to record a song and how to mixing a song. I tried to use my knowledge to get what I was trying musically. Sometimes I will have succeeded!
Unlike other Italian ­artists, you sing in English. Why English and not Italian?
Because I wanted to be international and 'cause I always loved English as the language used in music. Sometimes I write in my language for example as "Canto d'amore" of my last album "Land of Blue Echoes" but usually I love English. Maybe one day I'll record an entire album in Italian language.. What do you think about it?…
From my point of view, Italy has one of the finest and most original progressive rock scenes in the world. Why do you think Italy produces so many first-class artists?
I don't know really, but I think Italians have a great taste that comes from our "culture of beauty" and from the Opera. We have many great Conservatories (Schools of music) and people are very creative and crazy! I think it's because we need to express in music all that is beautiful around us, but there's also a magical way that I can't understand…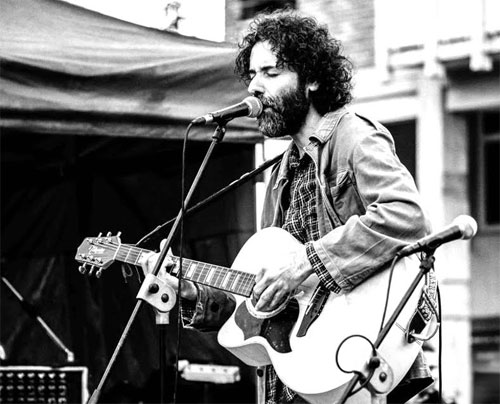 What instruments do you use?
Mainly I use guitars (especially acoustic 6 and 12 strings) and keyboards. I love so much mellotron and bass and sometimes I play bouzouki (a typical Greek or Irish instrument, I use Greek), lap steel guitar and ukulele (baritone). Rarely play the flute..
What effects do you use?
I'm a slave of delays, reverbs and phasers! All from Boss. I love so much to use a "backward delay", a must for all the lovers of psychedelic music of 60s. It sounds like the Beatles' Tomorrow never knows" or Hendrix's "1983" or "Axis bold as love" for example . I use this delay to create a backward guitar, especially when I play lead. It's funny!
If you could gather any musicians or music­al groups to collaborate with, whom would that be?
I would like to have David Gilmour, Steve Hackett, Steven Wilson or Jonathan Wilson… But I think would be cool to have any musician of the psychedelic period.. It's a dream, my dream. I'm trying to have one in my next album.. By the way, an EP called "California" is coming out (early October) and I'm also working on a new album. A concept prog rock Opera with a single 50-minute suite.. See ya soon folks!!
Discography:
In My Eyes (Crow Records, 2010), this first studio album was remastered with bonus tracks.
Live at the house of thunder, with the Velvet Cactus Band (Crow Records, 2011)
1969 (Crow Records, 2011)
Lilac Days (Crow Records, 2012)
Psychedelicious (Crow Records, 2013)
On Air – Live Unplugged (Crow Records, 2013)
Mother from the sun (Melodic Revolution Records, 2014)
Hidden Sun (Melodic Revolution Records, 2015), contains alternate takes and demo versions taken from the "Mother from the sun" recording sessions
The trip goes on – live 2015 (Melodic Revolution Records, 2015)
The unconventional and unusual journey through the 21st schizophrenic century and beyond, EP (Melodic Revolution Records, 2016)
Land of Blue Echoes (Melodic Revolution Records, 2016)
Official website: www.marcoragni.com
Marco Ragni – Land of Blue Echoes (Melodic Revolution Records, 2016)
Multi-instrumentalist, songwriter and vocalist Marco Ragni has put together a masterful recording that revolves around psychedelic progressive rock. What makes Land of Blue Echoes especially attractive is the combination of Pink Floyd-inspired progressive rock, folk-rock, fusion, Renaissance music, world music elements, ambient electronics, blues and more.
Although there is one charming song in Italian, most of the lyrics are in English and Marco Ragni does a great job delivering the vocals along with Durga McBroom, the captivating American singer that provided the familiar backing vocals for Pink Floyd.
Throughout Land of Blue Echoes, Marco Ragni and his colleagues perform a series of high energy segments and delightful slow tempo sections. Ragni does an outstanding job, mixing electric progressive rock with fascinating acoustic sounds.
Marco Ragni signifies the true spirit of progressive rock, taking the music beyond the regular parameters, adding dreamy constructions, mesmerizing ambience, harp-like sounds, and so much more. And, of course, in addition to shorter gems he delivers two lengthy suites, including the grand 22-minute serpentine composition that combines psychedelic and symphonic prog rock with marvelous electronic ambience.
Marco Ragni appears on vocals, electric and acoustic guitars, bass, piano keyboards & Greek bouzouki. He's joined by special guests Durga McBroom (Pink Floyd) on vocals; Peter Matuchniak (Gekko Project) on lead guitar; Jeff Mack (Scarlet Hollow) on bass; Jacopo Ghirardini (Stalag 17) on drums; Fernando Perdomo (Dave Kerzner Band ) plays lead guitar on "Money Doesn't Think"; Colin Tench (Corvus Stone) plays lead guitar on "Between Moon And Earth"; Vance Gloster (Gekko Project) on keyboards and Hammond organ; and Hamlet (Transport Aerian) plays bass and keyboards.
Land of Blue Echoes demonstrates the talent of progressive rock multi-instrumentalist Marco Ragni.