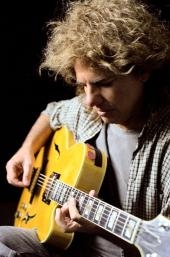 The Orchestrion is fascinating mix or music and technology. Guitar innovator and musical explorer Pat Metheny demonstrates his 'Orchestrionics, a term he uses to describe "a method of developing ensemble-oriented music using acoustic and acoustoelectric musical instruments that are mechanically controlled in a variety of ways, using solenoids and pneumatics."
With this project, Pat Metheny took advantage of today's technology and he developed his own Orchestrion, which includes a large ensemble of acoustic instruments: pianos, drum kit, marimbas, "guitar-bots," dozens of percussion instruments and even cabinets of carefully tuned bottles. Metheny worked for several months with a talented team of scientists and engineers to develop and assemble the "New Orchestrion" for this project.
"With a guitar, pen or keyboard I am able to create a detailed compositional environment or a spontaneously developed improvisation, with the pieces on this particular recording leaning toward the compositional side of the spectrum," adds Metheny. "On top of these layers of acoustic sound, I add my conventional electric guitar playing as an improvised component.
Pat Metheny Talks About The Orchestrion
At least for me, this takes the term "solo record" into some new and interesting areas, somewhat recontextualizing the idea of what constitutes a solo performance by a single musician. This project is the result of a lifelong dream in this area that dates back to my early youth."