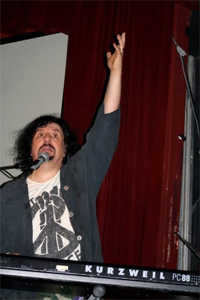 American keyboardist Moogy Klingman died in New York City November 15th 2011. Mr. Klingman was best known for his work with musician and producer Todd Rundgren. Mr. Klingman was 61.
Mr. Klingman was the original keyboardist for Todd Rundgren and his progressive rock band Utopia. He played on 10 Todd Rundgren albums, as well as several Utopia albums. Mr. Klingmane co-wrote "You gotta have Friends" with Buzzy Linhart. He also produced and played keyboards for Bette Midler on her "Songs for the New Depression".
Mr. Klingman played keyboards and produced a record for Bob Dylan titled "Buckets of Rain" – a duet Dylan did with Bette Midler. He was musical director and associate producer, as well as keyboardist on "Music from Free Creek", an album where he played and recorded with Eric Clapton, Jeff Beck and Keith Emerson among others. He has also played live for Chuck Berry, Jimi Hendrix, Buzzy Linhart and in the 1090s – with members of the Allman Brothers/Gov't Mule and a summer tour with blues legend, Bo Diddley.
In recent years, Mr. Klingman performed with a jam rock band he cofounded called The Peaceniks.
More information about Mr. Klingman is available at www.moogymusic.com