Snarky Puppy – Immigrance (GroundUp Music, 2019)
Snarky Puppy, the finest funk jazz band in the current scene is back with a superb album titled Immigrance. Band leader Michael League clarifies the title of the album: "The idea here is that everything is fluid, that everything is always moving and that we're all in a constant state of immigration. Obviously the album's title is not without political undertones."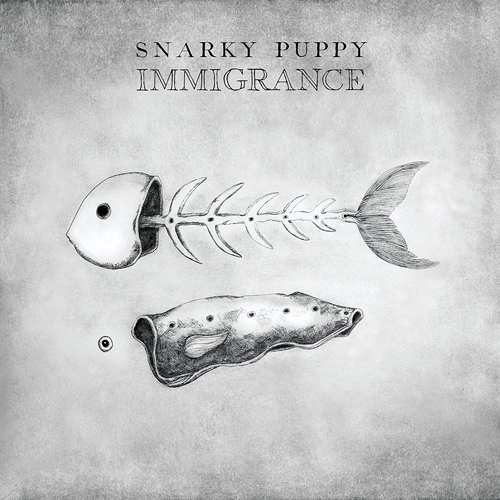 The opening track, "Chonks" couldn't be more spectacular; it starts with fabulous funk keyboards and progresses into outstanding jazz-rock fusion topped by Mark Lettieri's brilliant guitar solo.
Michael League brings in some of the best young keyboardists to Snarky Puppy's sessions and that's what makes the band such a delight. Instead of the tired saxophone solos that other bands utilize, Snarky Puppy has a much modern, edgy sound with the use of electronic keyboards, guitars and a solid brass section.
"Bigly Strictness" is a seductive composition with a wonderful, creative global percussion section, smoky trumpet solo , Shaun Martin's and Justin Stanton's fantastic synths solos and mesmerizing gliding guitars. Pure beauty.  
"Coven" begins laid back with intricate bass lines, brass arrangements and forward-thinking trip hop feel. Shaun Martin delivers another masterful synth solo that leads into Chris Queen's electric guitar solo. Progressive fusion at its best.
The trip hop returns on "Blig Blingi," a bass-heavy funk piece, where chilled, futuristic keyboards and funk synth solos, dubbed drums, and brass, and complex, but accessible drum beats continue to impress. 
Track 5, "Xavi," the longest piece on the album is more jazz-fusion oriented, featuring a breathtaking electric violin solo by Zach Brock; and an equally good Minimoog solo by Bobby Sparks. Percussionist Keita Ogawa also gets an opportunity to showcase his talent with an ocean drum solo. The track concludes with a great piano solo by Bill Laurance.
"While We're Young" features steady funk drum beat, funk synth solo, majestic mellotron and reverb-rich brass.
"Bad Kids to the Back" is perhaps the least striking piece, featuring funk beats and predictable saxophone solo.
The final track, "Even Us" takes the music in a totally different direction, into the realm of contemporary world music, with Michael League picking up the ud. There are references to modern tango, Middle Eastern modes and western chamber music. It's beautifully-orchestrated and deeply satisfying.
Buy Immigrance