Acclaimed vocalist, guitarist, songwriter and composer Greg Lake passed away on Wednesday, December 7, 2016. He was a founding member of pioneering progressive rock bands King Crimson and Emerson, Lake & Palmer.
Gregory Stuart Lake was born on November 10, 1947 in Parkstone, Dorset, England. He started playing guitar at 12 and wrote his first song, "Lucky Man", at the same age. He developed into a full-time musician at 17, playing in several rock bands until his colleague from Dorset, Robert Fripp invited him to join King Crimson as their vocalist and bassist.
Fripp and Lake got to know each other when they shared the same Dorset guitar teacher who taught them a wide range of music including classical pieces by Paganini and post WWII classics. Lake also listened to early American rock and roll and was inspired by Copeland and Prokofiev.
Greg Lake participated in two of King Crimson's seminal albums, In the Court of The Crimson King (1969) and In The Wake Of Poseidon (1970).
Greg met keyboard maestro Keith Emerson during a North American tour in which Emerson's band, The Nice shared the bill with King Crimson. Greg and Keith had a lot in common: diverse musical influences and a yearning to reinterpret classical works while creating new classics in a new musical genre.
After returning to England, Greg and Keith were introduced to Atomic Rooster drummer Carl Palmer, by Robert Stigwood, and subsequently they formed Emerson Lake and Palmer (ELP). This was essentially the first progressive rock superband. Emerson Lake and Palmer achieved immediate fame with their debut at the Isle of Wight Festival in 1970.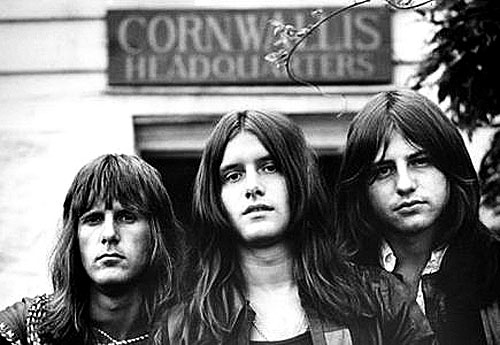 Emerson Lake and Palmer's self-titled first album went platinum. It was produced by Greg Lake and included Lake's song that he had written while still in school: "Lucky Man." This now classic song became a popular part of the band's repertoire and was played frequently on FM radio.
With ELP,  Greg Lake recorded six platinum albums between 1970 and 1977, including "Emerson, Lake & Palmer," "Tarkus," "Trilogy," "Brain Salad Surgery," the triple live album "Welcome Back My Friends to the Show That Never Ends" and "Works Vol. 1". They topped the bill at the colossal 1974 festival California Jam, playing to an audience of over 500,000 spectators.
Greg Lake was in the process of finishing his autobiography titled "Lucky Man" that is scheduled for release in 2017.
"Yesterday, December 7th, I lost my best friend to a long and stubborn battle with cancer," said Greg Lake's manager and friend Stewart Young. "Greg Lake will stay in my heart forever, as he has always been. Despite his illness which he knew to be terminal he always took the view about his life, career and family that he was indeed a lucky man… His family would be grateful for privacy during this time of their grief. Many thanks."
Greg Lake discography:
Solo recordings:
Too Old to Go 'Way Little Girl/Dreams Don't Bother Me, with The Shame (1967)
Reputation / Love, with Shy Limbs (1968)
I Believe In Father Christmas / Humbug (1975)
Greg Lake (1981)
Manoeuvres (1983)
In Concert on The King Biscuit Flower Hour (1995)
From The Beginning: The Greg Lake Retrospective (1997)
From The Underground: The Official Bootleg (1998)
From The Underground II – Deeper Into The Mine: An Official Greg Lake Bootleg (2003)
Keith Emerson and Greg Lake Live From Manticore Hall (Manticore Records, 2014)
Greg Lake / Manoeuvres (Creative Musical Arts, 2015), remastered
With King Crimson:
In The Court of The Crimson King (1969)
In The Wake of Poseidon (1970)
Epitaph (1997)
Live at the Marquee Club, 1969 (Discipline Records, 1998)
With Emerson, Lake and Palmer
Emerson, Lake and Palmer (1971)
Tarkus (1971);
Pictures At An Exhibition (1972)
Trilogy (1972)
Brain Salad Surgery (1973)
Welcome Back My Friends To The Show That Never Ends… (1974)
Works, Volume 1 (1977)
Works, Volume 2 (1977)
Love Beach (1978)
Emerson, Lake & Palmer In Concert (1979)
The Best of Emerson, Lake & Palmer (1980)
The Atlantic Years (1992)
Black Moon (1992)
Live At The Royal Albert Hall (1993)
Return Of The Manticore (1993)
Works Live (1993)
In The Hot Seat (1994)
Brain Salad Surgery – Special Edition (1996)
Live At The Isle Of Wight Festival (1997)
ELP Live On The King Biscuit Flower Hour (1997)
Then And Now (1998)
Fanfare For The Common Man – 2 CD The Anthology (Sanctuary Records, 2001)
The Original Bootleg Series From The Manticore Vaults Vol. 1 (Sanctuary Records, 2001)
The Original Bootleg Series From The Manticore Vaults Vol. 2 (Sanctuary Records, 2001)
ELP Live in Poland, The Original Bootleg Series, From The Manticore Vaults (Sanctuary Records, 2003)
ELP Best of the Bootlegs The Original Bootleg Series From The Manticore Vaults, 2 CD Disc Set (Sanctuary Records, 2003)
Emerson, Lake & Palmer remixed by Steven Wilson (2012)
Tarkus remixed by Steven Wilson (2012)
Trilogy remixed by Jakko Jakszyk (2013)
Brain Salad Surgery remixed by Jakko Jakszyk (2013)
Emerson Lake & Palmer The Anthology (BMG, 2016)
With Emerson, Lake & Powell:
Emerson, Lake & Powell (1986)
Live In Concert (2003)
The Sprocket Sessions (2003)