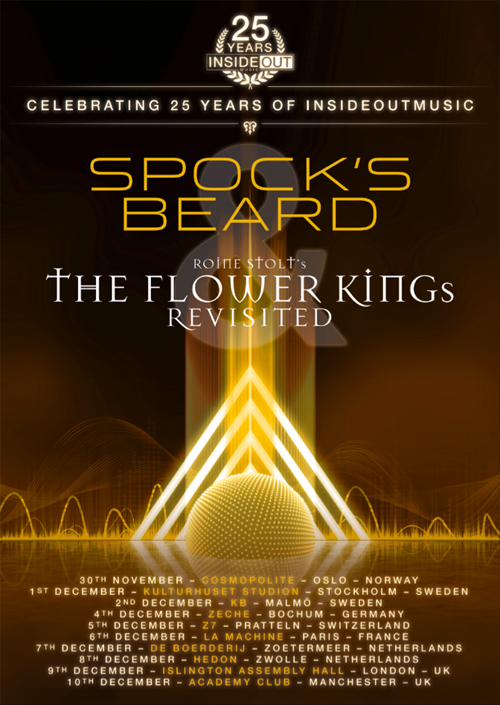 The InsideOutMusic label that has released some of the best-selling progressive rock acts in recent years, will be celebrating its 25th anniversary with a tour by two of its best-known artists, Spock's Beard and Roine Stolt's The Flower King's.
Spock's Beard said: "It will be a co-bill with Roine Stolt's The Flower King's revisited band, so each show promises to be a great evening of music. We've been getting a lot of questions about who will be playing drums on this tour, so at this time let me introduce our new touring drummer, Mr. Mike Thorne, from Saga! We are really excited to have him on board and are looking forward to seeing you on tour."
Roine Stolt adds: "Asked to put together a band to go on the road, celebrate our label InsideOut's 25 year anniversary; I was thinking of the 'treasure' that is the music I wrote for The Flower Kings during that same period. I felt compelled to bring out this music for yet another round and in the process bring in some old friends and some new.
The music is universal; some songs timeless and by November I hope to have an exciting set-list to not only celebrate my 1st album and the origin of all things "The Flower King" but to cover the rest of TFK's history and eventually a new tune and a few new faces. Tune up the engine. Time to prog!"
InsideOut released a boxed with first set of The Flower Kings albums titled 'Kingdom Of Colours (1995-2002)' and has just released the second boxed set with the more recent albums: Kingdom Of Colours II (2004-2013).
Tour dates in 2018:
30th November – Cosmopolite, Oslo, Norway
1st December – Kulturhuset Studion, Stockholm, Sweden
2nd December – KB, Malmo, Sweden
4th December – Zeche, Bochum, Germany
5th December – Z7, Pratteln, Switzerland
6th December – La Machine, Paris, France
7th December – De Boerderij, Zoetermeer, Netherlands
8th December – Hedon, Zwolle, Netherlands
9th December – Islington Assembly Hall, London, UK
10th December – Academy Club, Manchester, UK