Groundbreaking progressive rock vocalist Jon Anderson (Yes) has announced the release of a new album titled 1,000 Hands that will be released on March 31, 2019.
"I've spent long periods of time making some records, but I've never taken a journey quite like this one," says Anderson. "To say that 1,000 Hands has been a long time in coming would be quite an understatement, but I'm thrilled that it's finally a reality and that my fans will now be able to hear it. And I think they'll be delighted to hear music that's timeless. It's one of the best things I've ever done."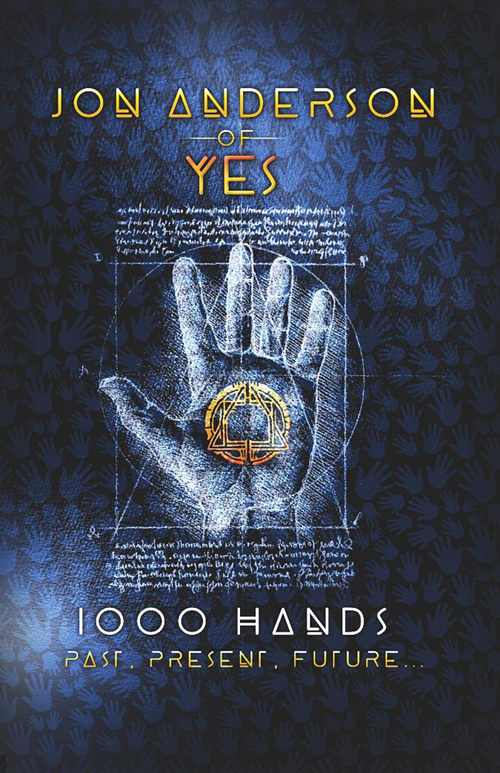 Anderson started the album (originally titled Uzlot – "it means a lot of us") approximately 30 years ago, working with a group of musicians that included Yes drummer Alan White and bassist Chris Squire. Nevertheless, due to his demanding touring commitments with Yes, Anderson had to put the record on hold. "Before you knew it, I started getting involved in other projects and tours, and years went by," he clarifies. "I would listen to the tapes from time to time and think, 'This could have been a great album! One day I'll finish it.'"
Respected producer Michael T. Franklin (Bruce Hornsby, Brian Wilson, Roger McGuinn) had at one time begun working on orchestrations for the album, but once more Anderson's packed schedule required the project to be put on hold. Ultimately, a year and a half ago, Anderson and Franklin decided to continue to work on the album and were determined to finalize it. "Our ideas still matched," Anderson says. "Michael knew everything I wanted to do and how I wanted the music to sound, so we agreed to go for it."
The final work took place in Franklin's Solar Studios in Orlando, Florida. Anderson laid down backing vocals to his original lead tracks, and Franklin brought in an superb group of rock and jazz legends to complete the songs: fellow Yes colleague Steve Howe, Ian Anderson, Jean-Luc Ponty, Billy Cobham, Chick Corea, Steve Morse, Rick Derringer, Jonathan Cain, and the Tower of Power Horns are just a few of the guests on 1,000 Hands.
"That's where the title 1,000 Hands comes from, all of the brilliant musicians who played a part in making the record," Anderson states. "Michael acted like something of a casting director, bringing so many great players. It was really exciting to hear the record open up and become what I had always envisioned."
The sessions came out so well, in fact, that Anderson decided to include four new songs on the album, with brand-new lead vocals. "Jon is such a remarkable writer and singer," enthuses Franklin. "His newer songs were fabulous, and they fit seamlessly with the rest of the album. Everything came together beautifully."
Bookended by the utterly beautiful acoustic ballads "Now" and "Now and Again," the album includes stimulating new progressive rock pieces ("Activate," "Come Up"), poly-rhythmic wonders ("WDMCF") and reggae pop ("First Born Leaders").