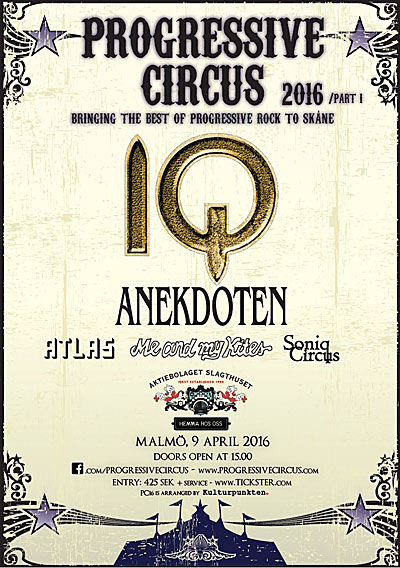 The complete lineup for the 2016 progressive rock festival Progressive Circus in 2016 is now available. The Swedish event will feature iconic British band IQ along with one of the finest Scandinavian bands, Anekdoten. The rest of the program includes Atlas, Me and my kites and Soniq Circus. The festival takes place April 9, starting at 15:00 at the Slagthuset in Malmö.
IQ will be celebrating 35 years as a band with their first headliner visit to Scandinavia. The group will present material from its critically acclaimed 2014 album "Road of Bones".
Swedish band Anekdoten returns with "Until all the ghosts are gone," considered one of the finest releases of 2015.
Atlas was one of the finest Swedish progressive rock bands in the late 1970s and their last gig was before IQ's first, and they are coming 37 years later.
Me and my kites are heavily influenced by the late 60s psychedelic progressive folk
Soniq Circus' influences include 1970s progressive rock and heavy metal.
More details at www.progressivecircus.com