Lunar Cape band – Lunar Folk Tales (ArtBeat Music, 2019)
Russian act Lunar Cape band has released a beautifully-packaged album titled "Lunar Folk Tales." The music defies boundaries. In some cases Lunar Cape is described as a progressive rock band even though this recording contains deep folk music influences. The group clarifies that it doesn't associate its music with any style or subculture and identifies itself as "popular instrumental music".
The album is a series of fairy tales inspired by the moon, Russian and English traditions. The LP-sized set contains three discs: a Russian language album, an English-language CD and the third disc features the instrumental version of the tracks. The package also includes beautiful artwork with illustrations and lyrics in Russian and English.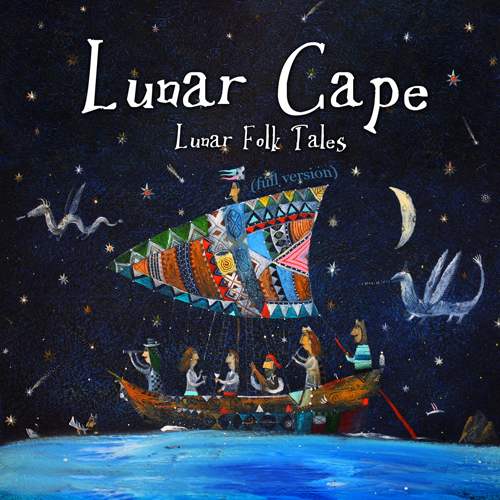 Band members include Olga Scotland on flute, recorders, tin whistle, mandolin, spring drum, sound effects, VSTi; Andrey Shashkov on bass, vocals; Roman Smirnov on guitars, washboard, vocals.
Guest musicians: Paul Bulak on keyboards; Grigory Shelehov on drums; Alexander Koval on drums; Shahid Rashid on vocals.
Storytellers in English: Ozma Nagatovna and Trey Gunn.
Guest storytellers in Russian: Nastya Postnikova and Maxim Kucherenko.
Buy Lunar Folk Tales from amazon or from lunarcape.bandcamp.com