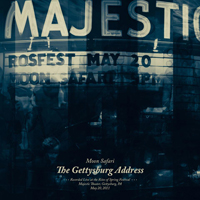 Moon Safari, one of Europe's leading progressive rock bands, has a new album titled The Gettysburg Address. The Gettysburg Address is Moon Safari's fourth release. It is a two CD set recorded live during their epic performance at the Majestic Theatre in Gettysburg, Pennsylvania, at Rosfest 2011.
The Gettysburg Address includes some of Moon Safari's most popular songs from all three studio albums.
Moon Safari is a symphonic progressive rock band from Skellefteå, Sweden. It was formed in 2003 and have three studio albums: A Doorway to Summer (2005), Blomljud (2008), and Lover's End (2010).
The line-up includes Simon Åkesson on lead vocals, backing vocals, piano, Hammond organ, moog, mellotron, choir arrangements; Petter Sandström on lead vocals, backing vocals, acoustic guitar, harmonica; Pontus Åkesson on guitars, backing vocals; Johan Westerlund on bass, backing vocals; and Tobias Lundgren on drums, percussion, backing vocals.
Album tracks
1 – CD1 – Moonwalk
2 – CD1 – Lover's End – Part 1
3 – CD1 – A Kid Called Panic
4 – CD1 – Yasgurs Farm
5 – CD1 – The World's Best Dreamers
6 – CD2 – Dance Across The Ocean
7 – CD2 – Heartland
8 – CD2 – New York City Summergirl
9 – CD2 – Other Half of the Sky
the album is available from therecordlabel.net