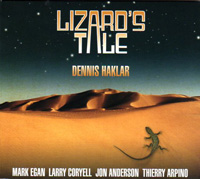 Dennis Haklar
Lizard's Tale (Floating White Lotus, 2012)
Guitarist Dennis Haklar has put together one of the most beautiful progressive music albums of the year. Lizard's Tale incorporates the best of creative jazz fusion and progressive rock.
Lizard's Tale features fiery electric guitar wizardry as well as delightful acoustic guitar work with the addition of outstanding guest vocalists in some tracks and a substantial rhythm foundation.
The album opens with the title track, 'Lizard's Tale,' which is state of the art fusion featuring dazzling electric and acoustic guitar interactions between Haklar and his mentor, guitar legend Larry Coryell. Both guitarists showcase their amazing skills, accompanied by an outstanding rhythm base formed by bassist Mark Egan and drummer Thierry Arpino.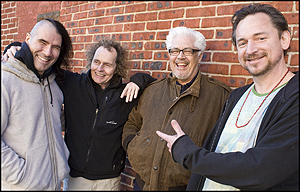 'Low-Lee-Tah' centers on the mesmerizing mix of acoustic guitars backing a soaring improvisatory electric guitar and Indian-style vocals. This piece includes Haklar and Coryell on guitars, K.S.Resmi on vocals.
The evocative 'Leap of Faith' takes a turn towards symphonic progressive rock with Haklar on guitars and synths and former Yes vocalist Jon Anderson on vocals. Anderson and Haklar make pure magic. Haklar plays some of the finest guitar work I've heard in recent months.
'Prelude to Dawn' features Jon Anderson again using lovely vocals. Larry Coryell returns with more superb guitar interactions and Stefanie Haklar provides backing vocals. Mark Egan joins the interaction with fretless bass backed by the skilled drumming of Arpino.
'Dawn of an Era' is a little jazzier presents the same lineup as 'Prelude to Dawn.' Mark Egan is given an opportunity to showcase his talent as a solo bass player throughout the piece.
'A Message' is a delightful melodic guitar piece by Haklar using overdubbed guitars.
'Swift Messenger' is a laid back composition with synth layers providing the background for Haklar and Coryell's guitars.
'Angels in Bahia' goes in a world music direction with acoustic guitar actions by Larry Coryell and Dennis Haklar, accompanied by global percussion performed by N.Scott Robinson.
'Crossing Over' brings back Jon Anderson and Stefanie Haklar on wordless vocals, as well as Larry Coryell and Mark Egan's fretless bass work.
Jaywalkin' is a magnificent bluesy guitar duo composition with Haklar and Coryell on various types of guitars.
The album ends with 'Naima,' another fine jazz oriented piece, featuring the guitar communication between Coryell and Haklar.
Multi-instrumentalist and composer Dennis Haklar has studied electronic, jazz and avant-garde music. At Rutgers university he joined the Improvising Structures Ensemble which was an avante-garde group that performed the music of John Cage, Terry Riley, as well as original compositions. He took a master class with Pierre Boulez at Carnegie Hall. After that, Haklar became a studio session musician and became the chief engineer at Pyramid Rec Studio in New Jersey and eventually began teaching others.
"Every once in a while jazz cats would come through," says Haklar. "After hours we would jam till dawn. I would often organize sessions with fusion players like Chuck Burgi (drums) of Brand X, or Pat Tamminen (drums) and John Thompson (bass)."
Later, he started to work with Jon Anderson, the legendary Yes vocalist. "A few years ago I began collaborating with Jon Anderson over the internet," adds Haklar. "It has been such a great experience to be able to share ideas and music with someone who I have admired as far back as I can remember. I grew up listening to Yes and Jon."
Haklar also studied guitar with Larry Coryell. "I always loved jazz as well as prog rock," says Haklar. "I studied guitar with jazz maestro Larry Coryell over the past few years. He opened my mind to thinking about music in visionary ways."
Remember the name, Dennis Haklar, and get the album, Lizard's Tale. It's a first-rate recording that will appeal to fusion and progressive rock fans.
Listen to samples, buy the CD or MP3s: Lizard's Tale