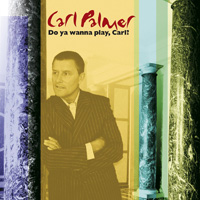 Carl Palmer
Do Ya Wanna Play, Carl? (MVD, 2014)
Do Ya Wanna Play, Carl? is a two CD compilation of music by legendary rock drummer that was originally released only in the UK in 2001. The new expanded version contains additional tracks. Do Ya Wanna Play, Carl? spans several decades and various musical genres. Disc 1 focuses on the symphonic side of Carl Palmer, with the extensive 'Concerto for Percussion' by Carl Palmer and Joseph Horowitz. The rest of the disc features a selection of Emerson Lake and Palmer (ELP) cuts from the Works album. Carl Palmer gets to show his admirable skill as a world class drummer in the pieces selected.
Disc 2 features some Palmer's lesser known material. It opens with some of the earliest material by Palmer, a mod band called The Craig. More interesting is track 2, a piece by progressive rock pioneers Atomic Rooster. Next is a piece from a pop project called Carl Palmer's PM.
Carl Palmer worked with the great composer and visionary multi-instrumentalist Mike Oldfield. Their collaboration is represented by 'Mount Teidi.'
Next comes Palmer's work with AOR superband Asia. The group included four former progressive rock musicians who got together to make radio friendly rock and pop. I didn't think very highly of the band at the time and this flash from the past has not change my mind.
I was unfamiliar with 3, a project where Keith Emerson and Carl Palmer worked together again. The instrumental symphonic rock parts are spectacular.
I think Carl Palmer realized where his strength is, in progressive rock. That's why he's now touring with his latest band Carl Palmer Legacy, performing some of the best material from early Emerson Lake and Palmer. The lead melodic instrument now is the guitar instead of the keyboard so fans looking for Keith Emerson's familiar organ and synths may feel a little disoriented. But the guitar versions performed by Paul Bielatowicz work just as well.
"Since 2001, I have been playing with my own power trio, replacing the keyboards with electric guitar," says Palmer. "I felt that was the only honest way to approach the music of ELP. I didn't want to have a singer trying to sound like Greg Lake. ELP did so much instrumental music, this format made sense to me. Hearing the keyboard parts done on guitar is certainly different, but just as satisfying. The idea was to re-invent the music; there will be several new classic ELP tunes this time around."
The album ends with a rare live jazz performance with the Buddy Rich Orchestra.
Buy Do Ya Wanna Play, Carl? in North America
Buy Do Ya Wanna Play, Carl? in Europe