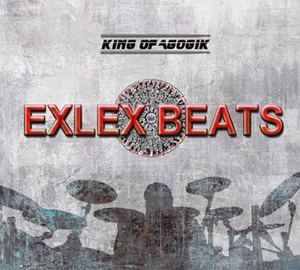 King of Agogik
Exlex Beats (sAUsTARK records, 2014)
King of Agogik is the progressive rock project of German drummer and composer Hans Jörg Schmitz. The latest album by the band, Exlex Beats, came out in late 2014.
The album is totally instrumental and contains a wide range of sounds, from classic symphonic progressive rock to much harder material.
The album opens with a short powerful piece titled 'Bronto's Navel.' It's followed by a high intensity suite (nearly 12-minutes long) titled '11th Sense' where the music often takes sudden turns. It's almost like a collage of progressive rock, hard rock and occasional electric guitar shredding.
On cut 3, 'Nomouglea' the band gets into full blown progressive rock. The piece begins with a beautiful Genesis-style acoustic mix of guitar, violin and gradually builds into an electric section with creative drumming and virtuosic electric guitar solos.
The mellotron arrives on 'The Chasteness' where the keyboards engage in a lively dance with the drums building tyo a climactic conclusion.
'Making of SWEP' is a short keyboard piece with an experimental tendency.
On track 6, 'Musicogenic Epilepsy' the bass player gets extra attention with fine solos. Unfortunately, the heavy metal riffs start creeping into this piece. The riffs fight it out with the mellotron.
The splendid acoustic guitar returns on 'Sheol' and progresses into a great Genesis-influenced section with memorable guitar and keyboard work.
On track 8, 'Lick Me', the band moves toward brutal heavy metal; time for a remix!
The bass gets another leading role with an exquisite mesmerizing performance on 'The Venturous Dream of a Schlabbershirt'.
Track 10, 'Thin as a Skin' is by far the longest piece, clocking over 22 minutes. It has a jam feel with prog rock and jazz featuring numerous speed changes and a series of solos and flute, keyboard and guitar interplay.
The albums with a very short piece titled 'Arrived without Travelling' featuring mellotron, percussion, powerful drums and metal riffs.
The lineup includes Hans Jörg Schmitz on drums, keyboards, guitar, bass; Dago Wilms on acoustic and electric guitars, Hamer bass; Gary Farmer on Rickenbacker bass; Steve Unruh on flute and violin; Michael Elzer on 12-string Chapman Stick; Pantelis Petrakakis on bass; Andrew Marshall on Spanish guitar; Arne on electric guitar; Michael Kreutz on bass; Peter Simon on oboe; and Erik Vaxjö on mellotron.
Buy the album in the USA: http://www.steveunruh.com/order.html
Buy the album in Germany: http://www.king-of-agogik.com/cd-order