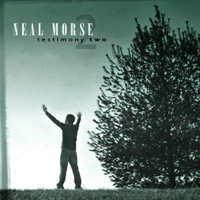 Neal Morse
Testimony Two (Radiant Records, 2011)
Testimony Two is a Christian rock album by multi-instrumentalist Neal Morse. The multifaceted musician is known for his progressive rock projects (Spock's Beard and Transatlantic) and also his hard rock excursions and born-again Christian albums.
Testimony Two contains an uneven mix of Christian testimonial songs, melodic rock, hard rock and some progressive rock.
Disc 1 begins with the melodic soft rock song 'Mercy Street'. The next piece titled 'Overture No. 4' starts with a promising symphonic rock introduction with admirable keyboard work that is drowned by disruptive heavy metal chords. 'Time Changer' is a piece led by powerful bass that features multi-layered vocal parts a la Gentle Giant as well as interesting guitar and violin solos, and epic keyboard passages inspired by early Yes.
The bittersweet ballad 'Jayda' is dedicated to Morse's daughter, who had been diagnosed as having a hole in her heart that required open-heart surgery. The unexpected outcome had a profound effect on Neal Morse, with implications that are reflected throughout the album.
The hard rock cut 'Nighttime Collectors' has a ZZ Top feel. 'Time Has Come Today' includes great guitar melodies and keyboard work although the tendency to drown it with hard rock makes the piece very patchy.
The rest of Disc 1 contains a series of testimonial ballads, hard rock pieces and the semi-progressive rock track 'Change of a Lifetime' where yet again there is a conflict between creative keyboard work and excessive hard rock guitars.
Disc 2 only contains 3 tracks. 'Absolute Beginner' will please hard rock fans. 'Supernatural' begins in classic symphonic rock fashion, but quickly derives into an AOR ballad.
The best cut on the album is the 25-minute long suite 'Seed of gold' which is intended to be the great epic on the album. The first minutes bring back Morse's progressive rock edge with superb keyboard, bass and guitars. Unfortunately, around minute three the music gets drowned out by heavy metal. Throughout the rest of the suite the music morphs into a piano ballad, hard rock, pop-rock and inspired instrumental parts with fine keyboard and dual guitars. As the piece gets closer to the end, Morse treats the listener to epic guitar hero style solos although close to the very end, the magic is yet again spoiled by the heavy metal nonsense.
The musicians featured on the album include Neal Morse on lead vocals, keyboards, guitars; Mike Portnoy on drums, vocals; Randy George on bass; Matthew Ward on vocals; Paul Bielatowicz on guitar; Steve Morse on guitar; Nick D'Virgilio on vocals, Alan Morse on vocals, Dave Meros on vocals; Eric Brenton on violin, Mark Leniger on saxophone.
Testimony Two has a surprisingly flat recording quality. I'm not sure what they did with the recording and mastering, but surely musicians this veteran could have done much better.
Overall, Testimony Two is a middle of the road album. With some editing and remixing, a full progressive rock album could have come out. Unfortunately, as is, it is a collage of various genres which dilute the most inspired moments.
Listen to samples and purchase the album at