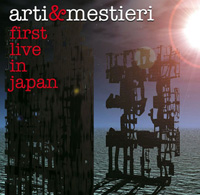 Moonjune Records announced that the "First Live In Japan" (2005) album by legendary Italian progressive fusion band Arti & Mestieri is back in stock.
"First Live In Japan" is a superb recording by the renowned seven-piece Italian progressive music legends. Arti & Mestieri were pioneers of fusion music in Italy, blending elements of progressive rock with the best of fusion jazz. The band was captured live in Kawasaki /Tokyo, during the Japan tour in June of 2005.
The lengthy 76-minute First Live In Japan is an epic release that features most of the material from their two highly-regarded cult albums, "Tilt" (1974) and "Giro Di Valzer Per Domani" (1975), as well as several more recent compositions.
Driven by the spectacular drumming of Furio Chirico (whose style has been often compared to Billy Cobham) and magnificent analog keyboards of maestro Beppe Crovella, this album abounds with masterful violin passages, sax lines, guitar work, robust bass and engaging vocals.