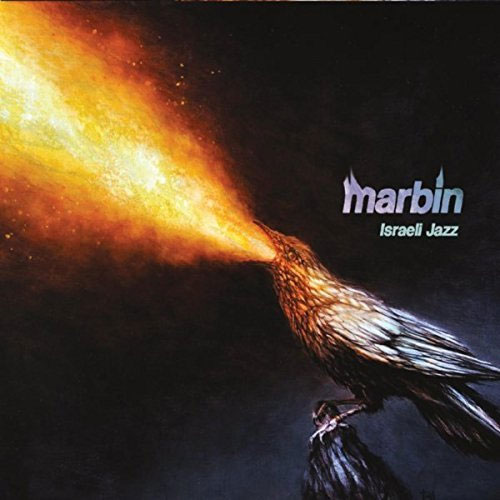 Marbin, a jazz-rock band based in Chicago, has a new album titled Israeli Jazz.
The band features the mix of Dani Rabin's distorted guitar with Danny Markovitch's soprano saxophone. Both are Israeli musicians and Marbin's sound incorporates Israeli music elements.
The lineup includes Dani Rabin on guitar, Danny Markovitch on saxophone, Jon Nadelon on bass; and Blake Jiracek on drums.
Marbin is currently touring the United States and Canada:
Mar 24 – Paducah, KY (Festiversary 3! at Paducah Beer Works)
Mar 25 – Chattanooga, TN (JJ's Bohemia
Mar 26 – Johnson City, TN (Willow Tree)
Mar 27 – Knoxville, TN (Open Chord)
Mar 28 – Asheville, NC (Isis Music Hall)
Mar 29 – Greenville, SC (The Firmament GVL)
Mar 30 – Charlotte, NC (Evening Muse)
Mar 31 – Winston-Salem, NC (Muddy Creek Music Hall)
Apr 01 – Raleigh, NC (The Pour House)
Apr 02 – Richmond, VA (The Camel)
Apr 03 – Virginia Beach, VA (Shaka's Live)
Apr 04 – Harrisonburg, VA (The Golden Pony)
Apr 05 – Roanoke, VA (5 Points Music Sanctuary)
Apr 06 – Beckley, WV (Melody's)
Apr 07 – Charleston, WV (Boulevard Tavern)
Apr 08 – Lexington, KY (The Burl)
Apr 12 – Milwaukee, WI (Shank Hall)
Apr 13 – La Crosse, WI (Midwest Music Fest At The Root Note)
Apr 14 – Menasha, WI (The Source Public House)
Apr 15 – Madison, WI (The Frequency)
Apr 20 – Dayton, OH (The Trolley Stop)
Apr 21 – Millvale, PA (Mr. Smalls Funhouse)
Apr 22 – Bridgeport, WV (Mia Margherita Cole Fired Pizzeria)
Apr 23 – College Park, MD (MilkBoy ArtHouse)
Apr 24 – Asbury Park, NJ (The Saint)
Apr 25 – Philadelphia, PA (Milkboy)
Apr 26 – New York, NY (DROM)
Apr 27 – New Haven, CT (Café Nine)
Apr 28 – Boston, MA (Middle East Upstairs)
Apr 29 – Florence, MA (13th Floor Music Lounge)
Apr 30 – New Bedford, MA (Greasy Luck Brewpub)
May 01 – Manchester, NH (Jewel Music)
May 02 – Portland, ME (Empire)
May 03 – Burlington, VT (Nectar's)
May 04 – Potsdam, NY (Hurley's Nightclub)
May 05 – Montréal, Canada (Petit Campus)
May 06 – Albany, NY (The Low Beat)
May 07 – Toronto, Canada (Sneaky Dee's)
May 08 – Syracuse, NY (Funk N' Waffles)
May 09 – Rochester, NY (Flour City Station)
May 10 – Buffalo, NY (Buffalo Iron Works)
May 11 – Ypsilanti, MI (Ziggy's)
May 12 – Mishawaka, IN (Martha's Midway Tavern)
Jun 07 – Northwood, OH (Boonies Roadhouse)
Jun 08 – Wilkes-Barre, PA (River Street Jazz Cafe)
Jun 09 – Stephentown, NY (Disc Jam Music Festival)
Jun 10 – Erie, PA (Basement Transmissions)
Jun 15 – Marion, IL (John Brown's On The Square)
Jun 16 – Scottsville, KY (Arts on Main)
Jun 22 – Marion, IA (The Famous Mockingbird)
Jun 23 – Omaha, NE (Intents Fest)
Jun 27 – Dubuque, IA (The Lift)
Jun 28 – Lincoln, NE (The Bourbon)
Jun 29 – Manhattan, KS (Arts in the Park)
Jun 30 – Des Moines, IA (Lefty's)
Juyl 01 – Pomeroy, IA (Byron's)
Aug 02 – Cleveland, OH (The Bop Stop)
Aug 04 – Zanesville, OH (Weasel Boy Brewing)
Aug 29 – Billings, MT (The Garage at Yellowstone Valley Brewing Company)
Aug 30 – Helena, MT (Lewis and Clark Brewing Company)
Aug 31 – Bozeman, MT (The Filling Station)
Sep 01 – Victor, ID (Knotty Pine)
Sep 03 – Boise, ID (Liquid)
Sep 05 – Salt Lake City, UT (Urban Lounge)
Sep 06 – Grand Junction, CO (Mesa Theatre)
Sep 08 – Denver, CO (The Walnut Room