The Claypool Lennon Delirium – South of Reality (ATO records, 2019)
I was intrigued by the formation of this band from its first announcements in 2015/16. I have been a fan of Primus and Les Claypool's work for some time. I have also enjoyed Sean Lennon's solo work. When I heard their first album would be from the progressive rock genre, all I could imagine; before hearing the music, was, that it could sound like John Lennon singing on a Pink Floyd album?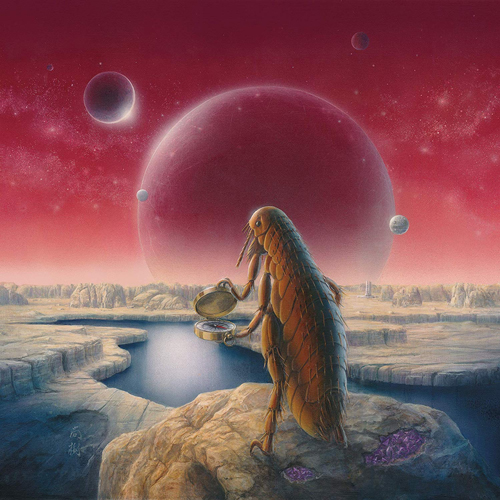 Well, Monolith of Phobos, their first album, from 2016, debuted and it did not disappoint. It sounded indeed, as if John Lennon was singing on a Pink Floyd album. Claypool's bass intricacies and the warm sound of Sean Lennon singing over the top of the intricate keyboards, bass and lead guitar melodies was perfect. It became one of my favorite albums of 2016.
Then, I heard them play King Crimson's classic In the Court of the Crimson King live, and I was a fan for life. They later made a studio version of this classic cover on their 2017, EP, Lime and Limpid Green…along with other classic covers like the Who's "Boris the Spider"; "Astronomy Domine" from Pink Floyd, and "Satori (Enlightenment), Pt.1", from the Flower Travellin' Band.
Now they return with their sophomore effort South of Reality, and they have crafted an even better album than Monolith. This album picks up where Monolith left off. It is a bit more accessible than Monolith in the amount of more lyrically driven melodies. At this moment it sits atop my favorite albums of 2019.
On a Claypool/Lennon album, the lyrics to all of their music are simultaneously relevant, memorable and satirical.
The album opens with "Little Fishes", which starts with some backmasking, quickly followed by a reminder of mercury in the assumed healthy choice of consumable fish. All set to this rockin' little, unthreatening melody of picked bass thunder. It later discusses many of the changes that we as Boomers and early Millennials have had to contend with daily. Including 3D printers and the effects of an Internet that vastly controls our lives. When they go off on a wild musical scamper, you can only wish you were watching it live.
Next up is my personal favorite song, "Blood and Rockets". "The Movement I, Saga of Jack Parsons", is a wonderful story set to a fun beat. The story of Jack Parsons is worth a Google search. The fact that this band attempted to describe the story of this legend before the advent of the US Space Program, within a song, and found such a bouncy melody to tell it, is worth many replays. "Movement II, Too the Moon", is a prominent and valuable instrumental movement section of the song.
"South of Reality", the title track is another dynamic song about space and all its multitude of adventures. This time, as seen looking up from the Earth.
"Boriska" is an interesting Internet story set to spacey rhythms and music. Google the name of this, at the time, 11-year-old boy, who claimed to be from Mars. The story is fun to read and listen to, set to music.
"Easily Charmed by Fools" is a fun ironic turn of the satirical pen from Lennon and Claypool.
"Amethyst Realm" is a unique story from England. About a woman who claimed to have fallen in love with ghosts. Cool, spacey music with ghostly noises and voices.
"Toady Man's Hour" is another favorite. I like to think it deals with the story of our current White House resident, President "Orange". Even if it isn't it about him, it is wonderful satire.
"Cricket Chronicles Revisited" opens the track, "Ask Your Doctor", with wonderful sitar and Beatlesque wanderings. Sean sounds like John and George off Magical Mystery Tour. "Psyde Effects" is a cool verbal feast of ideas and sounds.
"Like Fleas", immediately reminded me of Perry Farrell's wonderful satire and lyrical twist in the song "We'll Make Great Pets". Yes, the Earth may be trying to shake humans off like fleas after all we have done to the climate.
Wonderful satire set to interesting and complex music. Bouncy rhythms filled with thick bass, weird and wonderful guitar and keyboards. Just what the doctor ordered to keep your mind off the current state on the tragic world political stage.
South of Reality was produced by Les Claypool and Sean Lennon. Claypool engineered and mixed the album at his own Rancho Relaxo studio in Sonoma County, California. South of Reality was released worldwide on Feb 22nd, 2019.
Track List:
Little Fishes – 6:07
Blood and Rockets – Movement 1 – Saga of Jack Parsons – Movement 2 – Too the Moon – 6:31
South of Reality – 3:29
Boriska – 5:26
Easily Charmed by Fools – 5:12
Amethyst Realm – 7:49
Toadyman's Hour – 3:14
Cricket Chronicles Revisited – Part 1, Ask Your Doctor – Part 2 – Psyde Effects – 6:24
Like Fleas – 3:33