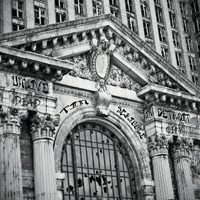 Tin Scribble
Unlive From A Dead City (2011)
Guitarist and vocalist Michael Allen Moore leads Tin Scribble, a progressive rock band from Detroit. Unlive From A Dead City has a dark and introspective feel overall: in the lyrics, musical atmospheres and even the cover of the album. The group's sound is characterized by the thick sounds of electric guitars and ambient layers as well as very short acoustic pieces that provide a welcome contrast.
Although you can find some influences from legendary bands of the 1970s, such as Van der Graaf Generator, Tin Scribble also has neoprog and more contemporary elements in the form of grunge rock. Although the band gets dangerously close to metal on a couple of pieces, they have thankfully not fallen for the heavy metal trap that other bands have fallen into.
The band's website and the liner notes are a little confusing as to who are permanent members of the band. According to the CD booklet, the main participants in the recording are Michael Allen Moore on guitar, keyboards and vocals, Bryan Atterberry on guitar, Todd Richardson on guitars; Clinton Sabon and Ryan Looney on drums and percussion; Danielle Collen on bass, vocals; Melissa Roberts on violin and Michael Rais on double bass.
Highlights include 'Scizophonia' , 'Corinnia ', 'Invisible Sun ', 'Guitaristic at Ease ', 'Breakable', 'For a While' and 'Wake.'
Unlive From A Dead City is a promising album by one of the most interesting progressive rock bands in the American Midwest.