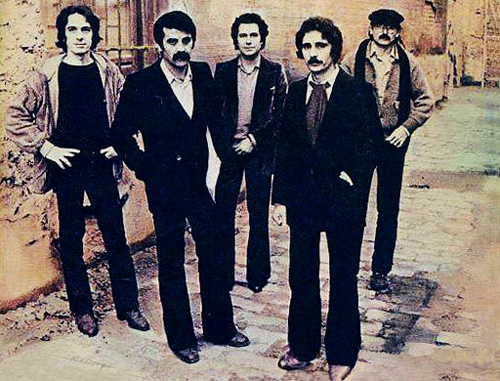 Andalusian rock band Alameda was born in Seville. The group fused flamenco and progressive rock, featuring two keyboardists, the Marinelli brothers.
The lineup included Rafael Marinelli on keyboards, Manuel Marinelli on keyboards, Manuel Rosa on bass, José (Pepe) Roca on guitar and vocals, and Luis Moreno on percussion.
Alameda released 4 albums during its first phase: Alameda (1979), Misterioso manantial (1980), Aire cálido de abril (1981), and Noche andaluza (1983). The group disbanded after Noche andaluza and re-formed in 1992 for a concert that took place during the World Expo 92 in Sevilla. Three albums were released in the 1990s: "Dunas" (1994), "Ilusiones" (1995) and the two-CD live set Concierto – 20 Aniversario (1999).
Original founders Pepe Roca and Rafael Marinelli kept the band alive, supported by session musicians and released "Calle arriba" in 2008.
Discography:
Alameda (Epic, 1979)
Misterioso manantial ( Epic, 1980)
Aire cálido de abril ( Epic, 1981)
Noche andaluza ( Epic, 1983)
Dunas (Horus, 1994)
Ilusiones (Horus, 1995)
Concierto – 20 Aniversario (Actual, 1999)